This article is more than 1 year old
Freecom ToughDrive Sport
Triumph of form over function?
Review Ever thought of climbing the Eiger with a USB hard drive dangling from your belt? Just in case you were, you might find the Freecom ToughDrive Sport is the missing link as you boulderly go. It even comes supplied with a carabiner hook and there's a picture of some formidable peak on the packaging to tempt you.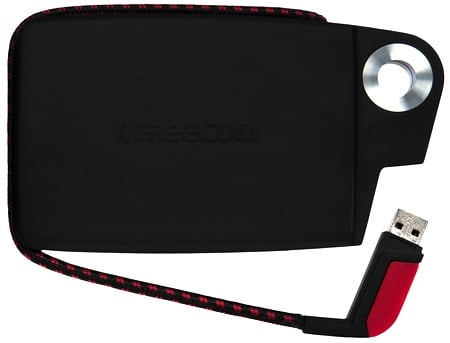 Freecom's ToughDrive Sport: designed for outdoor types
A pity then, that the Samsung HM251JI 2.5in Sata drive within, is only designed to operate at temperatures above 5°C but don't let that put you off, bungee jumping is still an option.
Indeed, Freecom claims that this 250GB device, roughly the size of a small paperback, can be dropped from a 2m height without the risk of data loss. Well, you've got to try it haven't you? So far, so good.
What makes this new approach to crashing a disk drive possible is the hard rubberised plastic casing, featuring a large, aluminium mounting ring to poke the hook through. An integral 30cm USB cable wraps round the edge of the ToughDrive Sport, nestling into a red rubber groove and providing additional shock absorption. The cable itself is covered with a black and red rope fibre weave to stimulate sporty thoughts, but will remind some of the lead used on the old family toaster.

Mountaineer-friendly carabiner included
The USB connector is a bulky hard plastic affair with the cable entering it at a near right angle. The idea is that it becomes one of the corners of the ToughDrive Sport when it slots into the top housing that extends from the mounting ring. When packed away like this, the cable covers and protects the power/activity LED and the DC input for the optional power supply, should bus powering from the host device be insufficient.