This article is more than 1 year old
OCZ Vertex solid-state drive
Vroom
Review OCZ has been rattling out new SSD drives with gay abandon. The 120GB Apex scored 70 per cent in our recent review and now it's time for the 120GB Vertex to take its place on the test bench.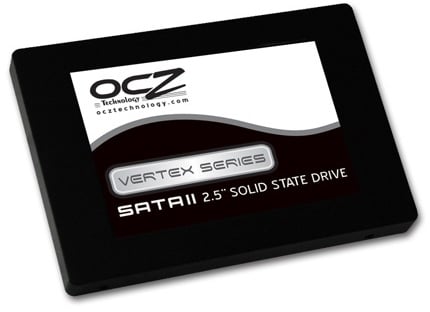 OCZ's Vertex: standard 2.5in form-factor
Cast your eye down the specifications of the Apex and the Vertex and you'll struggle to find much difference between the two models. They look identical because they both come in the 2.5in notebook Sata form-factor. The Vertex is available in the same capacities as the Apex - 30GB, 60GB, 120GB and 250GB - at prices that are very similar. But, inside the casing, there are changes afoot.
The older Apex uses a JMicron JMF602 SSD controller that has acquired a reputation for poor performance in a variety of SSD drives. Consequently, OCZ decided to use two of the controllers in a Raid 0 configuration.
Inside the Vertex, you'll still find 16 Samsung MLC Flash chips and a 64MB cache chip that were used in the 120GB Apex, but the JMicron controller is gone, replaced by the new Indilinx Barefoot IDX22 chip. This means that OCZ has been able to ditch the Raid arrangement, replacing the dual controllers and the Raid chip with a single controller.
Changing the controller is a huge step yet the change in the specification between the Apex and Vertex is surprisingly small. Feeds and speeds vary between models with different capacities so we'll stick with the 120GB versions. A 120GB Apex drive has a claimed read speed of up to 230MB/s and a write speed up to 160MB/s, with a seek time of less than 0.2-0.3ms.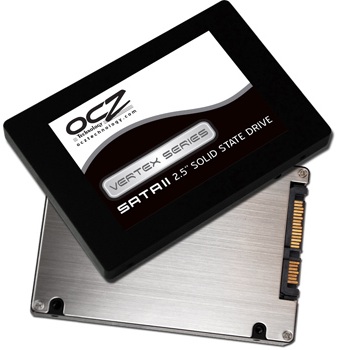 Sata connected
The 120GB Vertex has a read speed of up to 250MB/s, a write speed of up to 180MB/s and a seek time of less than 0.1ms, so the numbers haven't changed a great deal.