CodeCon 09 Interview I've known Bram Cohen since 2001, when Bittorrent was a glimmer in his eye. It's a worldwide phenomenon now, and is at the heart of the Pirate Bay trial.
So there was plenty to chew over when I caught up with Bram at the revived CodeCon workshops in San Francisco this weekend.
What's the instant one-line summary of Bittorrent Inc?
We raised money, three rounds from DCM, Exel and DAG. And we started an online content store which we have now shut down. And we acquired uTorrent and have been maintaining that codebase for several years.
Is the focus on embedded or software for you right now?
We're working with some device manufacturers. We're primarily focussed on client development and improving it and serving our users.
We're happy to help out with embedded. But with consumer equipment it's hard to tell where it's going.
Publishers and independents recognised Napster right away - and saw that's how people want to consume music. P2P is pretty essential to delivering that content. Did you find any of the same enthusiasm from studios?
Our content offering had lots of issues with it. There were restrictions on what it could do - and it also wasn't very good.
You wouldn't do it again?
It's not Bittorrent's thing and not what we're good at. It didn't work very well.
Do you think Hollywood gets P2P at a technical level, or does it still think primarily about control and one-to-many? I don't see that evident in digital film distribution - that most be the most complicated set of protocols I've seen.
A lot of the problem with that is that the projecters still cost a lot of money. It's a big piece of equipment, they don't sell a lot of them. We're stuck with pretty antiquated film.
"Men are usually willing to pay a lot of money in the hope of getting laid"
At the top of the music business it's still about control and trying to close down P2P, rather than licensing.
Everyone has to do a good as service to their customers as they possibly can. It's vastly more pleasant to watch a bunch of episodes of a series, or even a couple of episodes in a row. The media consumption experience could be vastly better than it has. The consumer experience is nowhere near what it could be.
It's not so much about the music - the important thing is the recommendation. It's that users are aggregating and organising the content. So the lesson seems to be that trying to control everything is passing up a lot of value that consumers want to bring to the equation.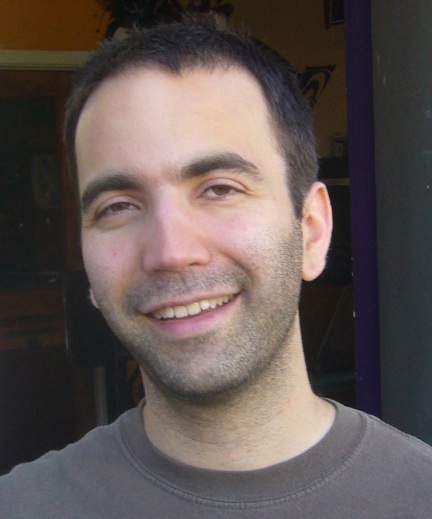 Bram Cohen at Codecon 09
Publishers lost control at the start - that's how performance rights started. The big record companies are still stuck at counting physical units...
Music has a bigger problem, it's that people want to make it. It's the peacocks tail. The reason guys make music is that they want to get laid. So men are usually willing to pay a lot of money in the hope of getting laid. Anything that helps you get laid with amazing regularity is something you would expect a tremendous oversupply of. So we have unbelievable amounts of music.
People pay a lot to learn how to play music and it's ridiculous to expect people to make money off it. Normally if you want to make money you do something no one wants to do.
I'm not sure it's ridiculous at all, because people have always willingly paid for recorded music - sometimes we've paid for it more than once! So that's not quite true. Also whatever music is in most demand - the stuff people actually want and what will get you laid - is always in scarcity. There are 13 million songs on iTunes and nine million have never been downloaded once. So at any time, good music is scarce.
Similar topics