Review 'It's a Dual camera,' says the little sticker on the side of the vaguely retro, pistol grip, Sanyo Xacti VPC-HD2000 camcorder. Sure it can function as a 12Mp still camera too, but when it comes to video, Sanyo claims the Xacti is the first consumer camcorder to shoot 60 frames per second in 1080p full HD. To achieve this, and easier editing, Sanyo utilises "True Progressive" scanning technology which, during playback, allows freeze framing on full, rather than interlaced images.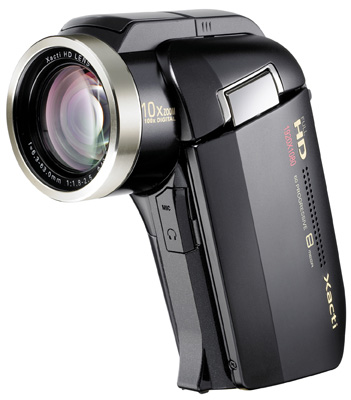 Sanyo's Xacti VPC-HD2000: a sharp shooter with pistol grip to match
Being a 1080p camera, the HD2000 produces a higher calibre of video signal than 1080i shooters can, resulting in a more solid looking image. Interlaced scans can suffer when the subject or the camera moves quickly.
The HD2000 offers seven different modes of shooting video, including two high-speed options at 240f/s and 600f/s, respectively, delivering very smooth (60f/s) slow-mo playback at quarter or tenth of normal time. Although you can't zoom in or out while recording in this mode, and the lower picture quality really means it's really only to be used for fun, if you choose your distance correctly, you'll be able to watch your kids running like the Six Million Dollar Man through the finish line on sports day
Like its predecessor, the HD1010, the HD2000 incorporates Face Chaser technology. This feature simultaneously monitors the exposure and focus of up to 12 faces in one shot, whether still or video, and does so well.
The photo camera offers ten different shooting options from 12Mp (interpolated) down to 0.3Mp. There are also two high-speed sequential shooting options delivering a supposed 12f/s at 4Mp and a definite 6f/s at 8Mp. The camera allows up to 15 shots at a time. This helps avoid needless and lengthy processing and editing time. Regardless of frames rate, it's a useful feature and a good example of this camera's sure-footed capabilities.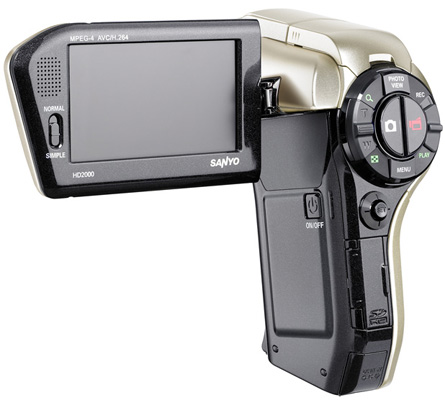 The 2.7in LCD hinge seems flimsy but holds its own
There are a number of manual settings available, if you spend time toggling into the recording menu to find them. Unfortunately, there is no programmable option to save customised settings and, considering the price, such a facility really should exist. Instead, you just have to keep going back into the menu if you want to change or check anything. As well as auto exposure, the camera can work with aperture priority, shutter priority and manual.