Branson mothership bottom smacked in 'touch & go' incident
Blushing cheeks at Virgin Galactic
Rumoured control issues in Richard Branson's WhiteKnightTwo rocketplane-piggyback "mothership" craft appear to be persisting. Reports have it that the innovative aircraft smacked one or both of its tails against the runway during a recent test flight.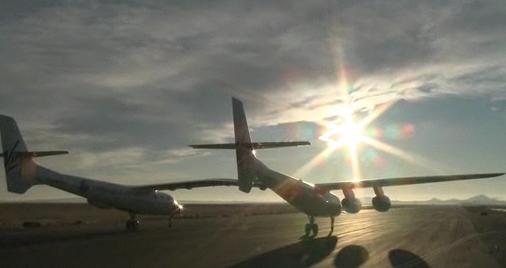 The tale of the small-tail fishtail issue may not yet be over.
The WhiteKnightTwo is a development of the White Knight high-altitude jet which carried the famous SpaceShipOne rocket plane up to launch altitude to win the Ansari X-Prize in 2004. A new SpaceShipTwo is intended to carry wealthy thrillseekers on ballistic jaunts outside the atmosphere for beardy biz kingpin Richard Branson's Virgin Galactic spaceline venture.
Wraps have yet to come off the new SpaceShipTwo rocketbird, but builder Scaled Composites is already test-flying the WhiteKnightTwo "mothership" carrier. Reports have circulated since January that the big plane lacks rudder authority.
Now both Flight International and Space.com report that the latest WhiteKnightTwo test flight saw the aircraft's tail hit the ground during a "touch and go"* rolling landing at the Mojave Air and Space Port. The mothership was thought to have been affected by relatively mild 15 knot crosswinds as it took off. The four-engined plane appeared difficult to control at slow speed above the runway, and the pilot was also said to have found steering difficult on the ground.
But Virgin Galactic chief Will Whitehorn characterised the flight as a great success. He told Space.com that the first WhiteKnightTwo - referred to by Virgin as VMS ("Virgin Mother Ship") Eve, after Richard Branson's actual mother - had now flown to 20,000 feet, demonstrated four-hour endurance and made trouble-free trials of its landing gear.
"We are delighted with the program so far and are meeting every milestone we are setting," Whitehorn told the space-news service. "Sir Richard Branson is looking forward to flying in Eve this summer and then seeing SpaceShipTwo attached later in the year."
However Flight journalist and former engineer Rob Coppinger notes that Eve has already seen several minor tailfin alterations in recent months, apparently without resolving the control issues. He suspects that substantial changes to the fin design will be necessary, commenting on his own blog:
Its further evidence that Scaled Composites, for all its expertise, did not realise the degree that a two fuselage aircraft with a Boeing 757 scale wing would require larger vertical fins ... The big question is, can this WK2 prototype carry SpaceShipTwo (SS2)? ... While landing in a 15kt crosswind presents such a challenge the carriage of SS2 is not going to occur any time soon.
Virgin Galactic has ordered five SpaceShipTwo rocketships and two WhiteKnightTwo VMSs, and plans to operate them from a custom-designed desert spaceport facility provided by the New Mexico state government.
Despite the $200,000 pricetag for a Virgin Galactic passenger seat, one may note that the rocketplanes won't carry their customers into orbit: they are only capable of achieving a brief ballistic arc outside the atmosphere before inevitably falling back in. However, there are also drawing-board plans to use WhiteKnightTwos as launch platforms for rockets which could lob small satellites into actual orbit. ®
*Where a plane lands, but doesn't come to a stop: simply increasing power and accelerating to take off again immediately. This is a common procedure when training pilots or testing out planes.