This article is more than 1 year old
Apple eyes patent for web silence
Browserized audio lord
Apple wants to give you the opportunity to selectively block web-based audio while allowing you to listen to any other audio source of your choosing.
In a filing released Thursday by the US Patent and Trademark Office, Apple detailed plans for equipping a web browser with the ability to apply controls to audio streaming in from the web - audio that the filing kindly describes as that "which may or may not be welcomed by the user."
Most often - let's be frank - it's not. Irritating advertisements, blaring music, clanging sound effects: they all intrude upon our aural consciousness, interfere with music we're listening to in the background, or simply annoy the %$#@! out of us.
And patent #20090106657, "Web Browser Audio Controls," wants to help.
The nine-page filing is simplicity itself. The basic idea is that a browser could include audio controls that could be set to any level that a user preferred - including "Mute."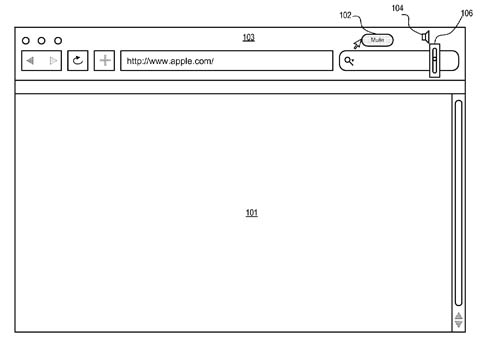 Such a simple idea: a browser with a volume control
The controls aren't merely intended for personal computers, but for any device capable of running a browser. "Including but not limited to," as the filing states, "media players, mobile phones, smart phones, email devices, game consoles or devices, personal computers, personal digital assistants, etc."
The filing also provides for fine-grained user control. For example, you could choose to mute or decrease the volume for only selected web sources. Or you could do the reverse, allowing only selected URLs to play freely - at whatever volume you choose - but tell all the others to shut up.
You could also tell the entire system to kick in only when you're running specific apps - iTunes for background music, for example, or Logic Pro when you're in creatively compositional mode.
Finally, if you set up such a preferences database on one of your browser-running devices, you'd be able to transfer it over a network to another device. Companies, for example, could set up audio-management profiles and distribute them to their employees. Cubicles farms could become more civilized places to work.
Rarely do we see a patent filing that makes us say, "I want that yesterday!" This one does. ®