Reviews The lines between multimedia audio kit – the sort of equipment designed for use with computers, iPods and the like – and 'proper' audio equipment seem to be getting increasingly blurred. Edifier's new Luna 2 speakers are a fine example of the blur, looking like run-of-the-mill desktop PC speakers but, at £250 for a pair, costing a darn site more than this kind of kit usually does and having some pretty serious amplification built in.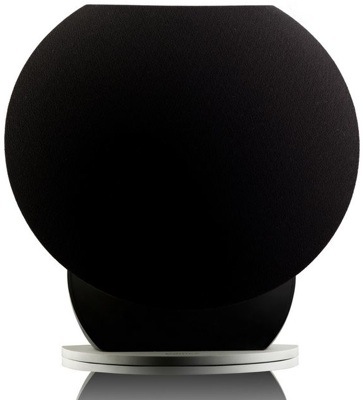 Edifier's Luna 2: beefy
Out of the box, the Luna 2 speakers certainly look and feel the part. As we've come to expect from Edifier, the build quality is excellent. Each unit feels like it has been carved out of stone, and looks rather smart in its black and sliver colour scheme with a brushed aluminium base. Physically, each speaker takes the form of a 118mm deep, 194mm diameter circular unit with a bite taken out of the top and mounted on a sculpted plastic base. Each weighs a beefy 2kg.
The Luna 2's controls comprise a touch-sensitive panel on the cut-out top of the right-hand speaker. In between the volume up and down controls is an input selector that glows a different colour when set to either USB stream, optical or auxiliary input. Round the back of the right-hand unit, you'll find the power socket, a mini USB port, combo 3.5mm analogue and optical digital socket, and an RCA jack to connect it to the left-hand speaker.
When switched, on a Cylon-style red LED glows from beneath the fixed speaker cover on the right-hand satellite.
Beyond controlling the volume and source, the control panel has a few tricks up its sleeve, at least when the set's hooked up to a PC by USB. Place your hand palm down on the panel for about three seconds and the system pauses your media player and mutes itself, put your palm back down for a moment and the music resumes.
The fun doesn't stop there: swipe a finger to the left or right across the panel and you media player will jump to the next or previous track.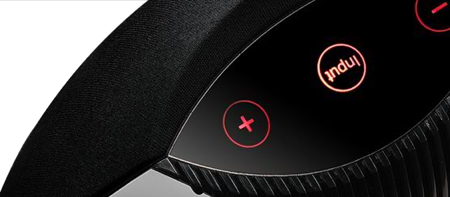 The control panel's touch-sensitive
The whole swiping forward and back malarkey works smoothly and reliably and functioned out of the box with Windows Media Player, Songbird and iTunes running on a PC though, according to Edifier, it also works with Winamp, Foobar and most other popular media players. The only drawback of the system that we came across was that the media player needs to be the most forward application on the desktop – if it's behind another app then swiping the control panel has no effect.