This article is more than 1 year old
Want a better Pirate Bay?
86pc of Swedes would pay for P2P: survey
A survey of Swedish internet users suggests that the music business continues to outlaw its biggest potential source of digital revenue.
86.2 per cent of users polled by Swedish performing rights society STIM would pay for some kind of legal P2P service, with only 5 per cent not interested whatever the price. A similar figure emerged from a survey of British users by UK Music (then BMR) last year.
51 per cent of users surveyed by the would pay between 50Kr and 150Kr (£4 and £12) a month. 18.8 per cent would pay more, between £12 and £24 a month. Only 7.4 per cent would not be interested in paying at all.
Streaming services such as Spotify or Last.fm are popular, but are not a replacement for an offline music collection. 80 per cent want to have their music accessible offline, something that a streaming service such as Spotify or Last.fm cannot (currently) offer. Only 4 per cent would be happy to have their music "in the cloud".
"It is now high time that [ISPs] start working seriously to offer their customers what they are calling for. Whoever first produces a commercial subscription product and shows the way, will at the same time be accepting their responsibility for diversity and breadth in the music industry of the future," concludes STIM chief executive Kenth Muldin.
Virgin was expected to launch a legal P2P music service here this spring, but it was put on ice weeks before launch. Some label sources say it may be revived - but not in the immediate future.
75 per cent agree with the principle that creators should be paid (somehow) for recorded music distributed over the interwebs, while 17 per cent disagree. Hardcore 'tards again find themselves in a minority.
The poll of over 1,000 Swedish net users was self-selecting, and STIM warns against regarding it as representative. The British survey last year produced interest of 80 per cent of downloaders and 63 per cent of non-downloaders. STIM's poll is is skewed 2:1 male, but over half say they listen to music on a PC regularly, and a quarter have over 5,000 songs on their iPod.
When we project the figures onto the UK, we can see how much potential revenue the music business may be missing out on. Bear in mind the value of recorded music in the UK, both physical and digital sales combined, is about £1bn.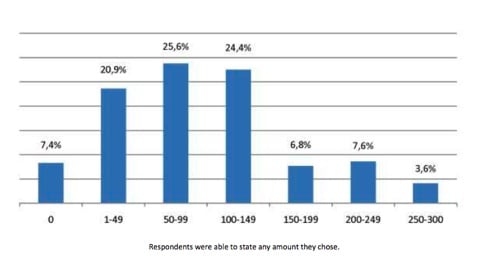 How much would you pay for a legal P2P service (unprompted)? The X axis is Swedish Krona
Around 14m UK households today have broadband. If 63 per cent of those households paid a tenner a month, over £1bn would be raised. The other 37 per cent may continue to buy CDs, or a la carte from Amazon and iTunes. If more paid less, say 80 per cent paid a fiver, that would return £672m. If only 12 per cent of households paid £15, that would nevertheless raise the tidy sum of £302m. Now you can see how much the war on P2P is really hurting the music business.
The problem is once you're in, you're in - it's near impossible to introduce a "tiered" P2P service without introducing daft usage caps, or monitoring so expensive and intrusive that it wouldn't be worth the effort. No one's seriously suggesting that anyway. But there are some really interesting nuggets buried in the survey - suggesting that we consumers don't just want legal P2P, but a much better P2P experience.