Want a better Pirate Bay?
86pc of Swedes would pay for P2P: survey
A better mousetrap than PirateBay?
Almost half those surveyed complain that unlicensed P2P sites serve up corrupt or incomplete files (47 and 40 per cent respectively). 41.3 per cent say what's in them isn't what they expected. That looks like a lousy customer experience. What's keeping Pirate Bay going is that it's free, or one in the eye for the music business, not that it's a cracking music service.
In addition, only 48.3 per cent agree with the proposition that "you can find everything you want" today - surely a basic requirement of a decent P2P service. On top of this, less than 60 per cent think torrent sites and LimeWire are easy to use.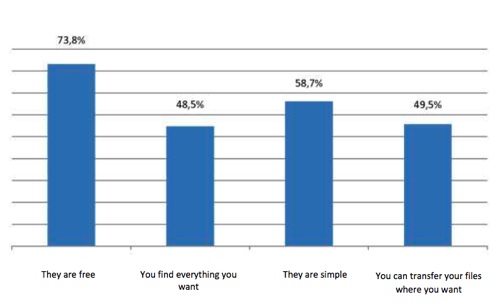 Q:"What are the advantages of P2P?" Looks like there's plenty of room for improvement
"The vision is that everyone should be able to listen to all the music that is available on the Internet in the same way as we watch TV programmes - paid-for and legally - but without having to wonder about how much the programme we are watching is costing to watch," says Muldin.
There are three losers from a thriving legal P2P market: music business lawyers, naturally, music tax advocates - who would rather we all pay a small compulsory fee, whether we download music or not, and ... you know who. ®