This article is more than 1 year old
Supersonic stealth jumpjet passes hover thrust test
Lockheed produces unprecedented amount of hot air
Pic The F-35B supersonic stealth jumpjet which will replace the famous Harrier in the British and US forces has successfully completed "hover pit" testing, according to lead maker Lockheed. The company says that the plane is able to generate 550 pounds more vertical thrust than was required.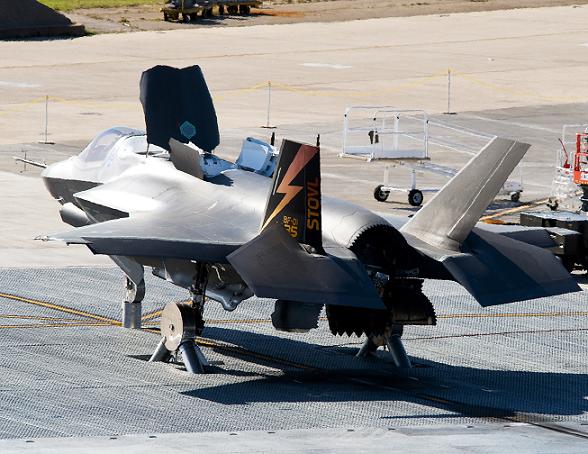 The big fliptop lid is the lift-fan shaft cover. The smaller dorsal gates let more air into the engine for hover operations. The ventral doors at the rear let the exhaust swivel down. Hi-res here.
The F-35B is intended to take off fully loaded after a short forward run, perhaps assisted by a "ski-jump" ramp as used on the current British aircraft carriers. After a mission, having burned fuel and possibly released weapons, the lightened plane is expected to hover down and make a vertical landing. It achieves this partly by swivelling its jet exhaust downwards, and partly by blasting air down through a central shaft with an engine-driven lift fan mounted in it. This kind of operation is generally known as "STOVL", for Short Take Off, Vertical Landing.
The first F-35B prototype has already flown, but only as a normal runway jet. The engine it was originally fitted with failed to satisfy engineers that it could reliably deliver the required power levels for hovering, and so modifications have had to be carried out.
But now engineers have a jumpjet which they believe is up to the challenge. Mounted on a grating above a pit at Lockheed's Forth Worth facility in Texas, the F-35B has apparently been able to deliver some 41,100 pounds of thrust using its lift fan and downward-pointed jet exhaust - enough to support more than 18 tonnes in a hover. Project engineers say that the jumpjet needs only 40,550 pounds to meet its performance targets.
"We've demonstrated critical performance such as inlet pressure recovery, pitching moment, rolling and yawing moment, effective vector angles of the exhaust, and control-input response time," said Doug Pearson of the F-35 Integrated Test Force. "The outstanding STOVL performance gives us plenty of confidence to begin in-flight transitions to STOVL-mode flight and ultimately our first vertical landing this summer."
In the US, the F-35B is intended for service with the US Marines, who today operate Harriers both ashore and from amphibious-warfare ships not unlike the Royal Navy's carriers. The US Navy will buy the F-35C arrester hook version and fly it from their massive, fully-equipped fleet carriers, and the US air force will purchase F-35A runway versions.
Here in Blighty, the idea is that the existing Harrier fleet, jointly operated by the Royal Navy and RAF, will be replaced by F-35Bs. These will fly from the navy's new carriers, which won't have arrester wires or catapults, and from shore bases as required.
In both countries and elsewhere, however, the F-35 programme faces opposition and doubts for various different reasons. Lockheed execs and programme officials will be hoping that the ongoing tests go as well as Mr Pearson says they will. ®