London cops trial 'leccy patrol cars
Guilty as charged
'Leccy Tech 'Scarper, lads, it's the e-filf...'
Knacker of the Yard today announced that half of the Metropolitan Police Service's cars could – and we note the use of the word 'could' - be electrically powered within four years.
The Met's fleet currently numbers around 5000 vehicles - both marked and unmarked – including a large number of Ford Transit vans. The possible electrification of the latter will no doubt be of interest to the folk up at Smith EV.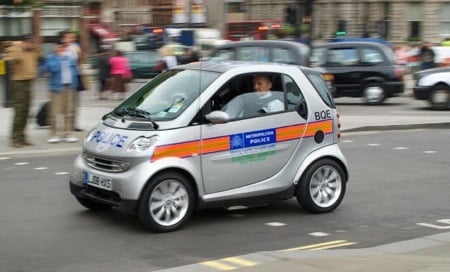 The Met's 'leccy Smart: mark it!
The Met already has a handful of electric Smart cars on test in Central London and at Heathrow Airport, along with a fleet of 140 Toyota Prius hybrids. The 'leccy Smarts each have a top speed of 60mph and can cover around 70 miles on a full charge. Not really enough for Regan and Carter to go chasing villains up and down the A40 but probably adequate for patrolling the capital's near grid-locked streets.
"London is perfect for alternative fuels such as electric or hybrid vehicles," said Nigel Jakubowski, director of transport services for the Met. "For central London, the top speed of 55mph isn't a problem. The uniformed officers who have driven them say they are very quick. We have installed charging points at the stations the cars are based in, and they work very well."
The Met also made some cryptic comments about some of its cars perhaps one day being powered by compressed air. We'll get back to you on that one. ®