This article is more than 1 year old
Canon PowerShot SX200 IS compact camera
Compact-plus?
Review So, you're off on your travels and you're wondering what type of camera to pack along with the suntan lotion and the insect repellent. A digital SLR takes great photos, but it's a bit on the bulky side. A compact is highly pocketable but there are compromises when it comes to performance, while a hybrid doesn't save you a great deal of space. Well, why not try a travel-cam?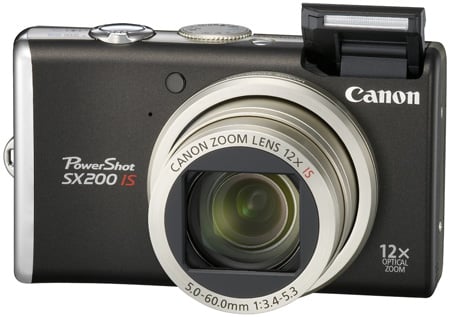 Canon's PowerShot SX200 IS: not a compact, not a hybrid - something in between
That's the idea behind Canon's PowerShot SX200 IS. It's pocket-sized, practical, packed with features and promises much in terms of performance. On paper at least, it looks like the ideal camera for the budding Michael or Michaela Palin, but is it?
How can we put this? The SX200 has one or two interesting design features. It has an aluminium and plastic body which curves inwards on the right-hand side for better grip. On top is a pop-up flash, small power button, large mode dial, shutter button and zoom rocker switch.
The back is dominated by a 3in LCD screen composed of 230,000 dots. Next to it are a direct print button, playback button, and beneath these, a multi-controller for functions such as flash mode, macro and self timer button. Surrounding the multi-controller is a control dial, which is used for various settings – more on this later. At the bottom are Display and Menu buttons.
The right is home to a rather tacky plastic cover hiding mini USB and mini HDMI ports. At the bottom, is a flap covering the lithium-ion battery compartment and memory card slot – the SX200 uses SD/SDHC cards, plus several types of MMCs.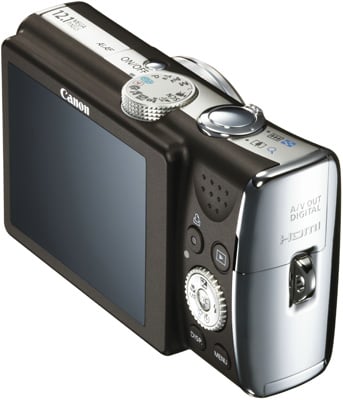 The SX200 is HDMI compatible - but you'll need to buy an adaptor to connect it to a TV
The SX200 is certainly much more compact than a DSLR, but it's on the large size when compared with a compact camera, like say, the Panasonic DMC-FS7. The Canon measures 103 x 61 x 38mm and weighs 250g with battery and card.