Canon PowerShot SX200 IS compact camera
Compact-plus?
---
Canon has included a 12.1Mp 1/2.3-inch CCD with a 12x optical zoom courtesy of a 5-60mm f/3.4-f/5.3 lens. The latter is equivalent to a 28-336mm lens on a 35mm camera, so the SX200 is is well able to take a wide range of shots. The camera uses the fourth generation of Canon's Digic image processors, which delivers an 80-1600 ISO range, shutter speeds from 1 to 1/3200s, image resolutions from 4000 x 3000 down to 640 x 480 (VGA).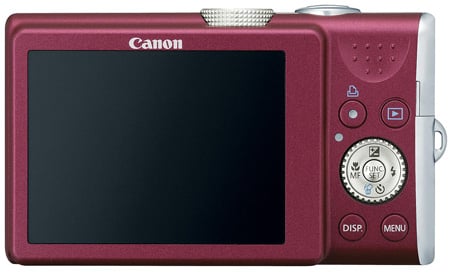 Not the sharpest LCD around
There's also a face-detection system that can spot up to 35 separate fizzogs, along with scene and motion detection technologies. It'll record movies in 720p HD resolution (1280 x 720), VGA or QVGA (320 x 240), all at 30fps. Video is recorded in the QuickTime .MOV (H.264) format and a ten-minute HD recording uses around 2GB of memory. You can record up to 30 minutes of HD video or an hour at the lower resolutions.
Switch on is pretty fast, with the SX200 ready to go in around two seconds. But whenever you power up the camera, something extraordinary happens: the pop-up flash springs into life, whatever the shooting conditions and whatever the camera settings. It's an odd design quirk and we're scratching our heads as to why Canon has opted to do this. True, you can easily disable flash mode using the multi-controller, but the pop-up flash still remains up.
If you put your finger over the flash cover during switch-on, you can stop the flash from emerging, but we wouldn't recommend doing this, in case you damage the camera. Besides, as soon as you remove your finger, the flash pops up again.
On a happier note, Canon has provided lots of user control options that will appeal to everyone, from the point-and-shoot beginner to the more experienced user. In Auto mode, Canon's Intelligent Scene technology analyses the brightness, contrast, distance and hue, and then – according to Canon – selects the optimum settings.
If all that's not enough, Easy Mode gives you just the option of switching off the flash and leaves everything else to the camera.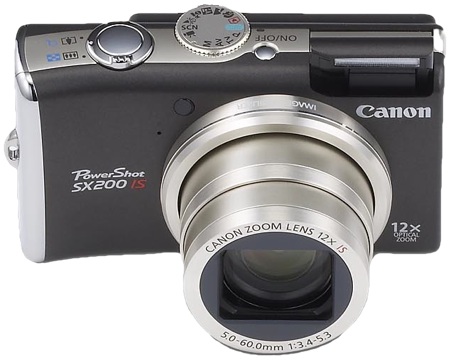 On the large size, compared to most compacts
If you want more control, there's plenty to choose from: Program AE, aperture priority, shutter priority and manual modes are all available. There are also various scene modes - such as Portrait and Landscape - that can be instantly accessed from the mode dial, plus more scenes to be selected from the menu, including Sunset and Night Snapshot. And if that wasn't enough, you've got Colour Accent and Colour Swap options, plus Stitch Assist, Canon's Panoramic mode, which can combine up to 26 frames. Sadly, there is no in-camera stitching, although Canon does provide the software for this on a PC.