Canon PowerShot SX200 IS compact camera
Compact-plus?
---
With the exception of the irritating pop-up flash, the PowerShot SX200 IS handles well. It takes around a second to write data to the memory card and shutter lag is minimal. The menu system uses the familiar Canon tabbed format, while using the function control involves scrolling through a menu which reveals a helpful short text description of each function. In manual and semi-manual modes, functions such as aperture size and shutter speed are easily changed using the control dial.
The LCD is large, and while not the sharpest screen on the block, is fine for most operating conditions. It's a shame, though, that Canon hasn't included an optical viewfinder, which is handy when using the telephoto end of the zoom.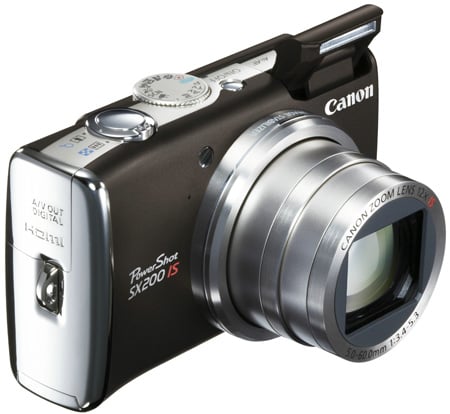 The flash pops up no matter what
There is much to like regarding the performance of the SX200. Image quality is good when it comes to colour, sharpness and exposure, and noise isn't an issue until you start shooting at ISO 400. The image stabilisation system is one of the best we've seen and makes a big difference when shooting at slow shutter speeds with the camera held in your hands.
The face-detection system works well, and we're pleased to see that the SX200 also combines it with the self-timer system, so that the camera only shoots when it detects an extra face in a scene - when you've dashed round to get into the frame, in other words.
HD movie quality was also impressive, with smooth motion and good resolution, although the mono soundtrack is nothing to get excited about. By the way, if you intend viewing HD movie footage on your HD Ready TV, you'll need to purchase a mini HDMI adapter cable, as Canon doesn't provide one. Another disappointment is that the SX200 only offers a continuous shooting speed of 0.8fps at the highest resolution, so forget about capturing that speedy gazelle in its full glory on your safari holiday.
Verdict
Canon has managed to squeeze a quart into something a little larger than a pint pot. The PowerShot SX200 IS has a good range of features, including a very versatile zoom, and offers much for both beginners or DSLR users looking for a smaller camera to take on their travels. Handling is good, although it's let down by a quirky pop-up flash system. You can even use it as an HD camcorder, provided you've got enough memory card space. This is indeed a handy camera to take on a holiday or a trip. ®

Canon PowerShot SX200 IS compact camera
A camera designed for traveling, the SX200 offers a wide range of operating modes, a useful set of features - but, sadly, an annoying pop-up flash.