This article is more than 1 year old
Scaled Composites refutes WhiteKnightTwo rudder rumours
Mothership bottom-smack smackdown
Aircraft design firm Scaled Composites, engaged in building a fleet of space-joyride craft for Richard Branson, has strongly denied speculation that its new WhiteKnightTwo launch plane might need a rudder redesign.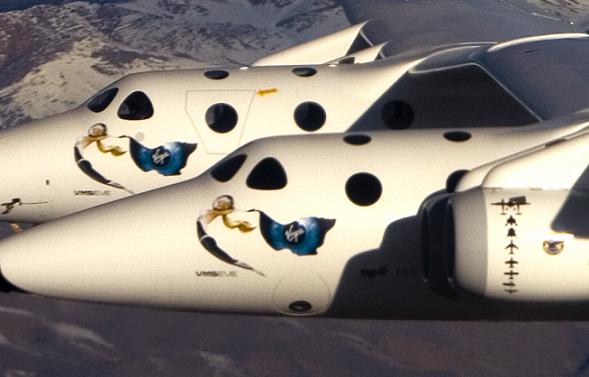 Virgin Mother Ship Eve during her maiden first flight.
In a statement released today, the company said that a recent incident during a test flight - in which the first WhiteKnightTwo scraped its tail booms on the runway during a "touch and go"* - had nothing to do with the plane's rudders.
According to Scaled:
Flight 4, conducted on 20 April was very successful ... During a touch and go landing, we encountered a significant thrust asymmetry (not a fault of the engines or the design but of an asymmetric idle thrust setting) that resulted in a large yaw upon power-up for the takeoff part of the maneuver. Both rudders were lightly scraped (less than ¼ inch of material) while recovering from this asymmetry. The aircraft behaved extremely well throughout the recovery, and we thoroughly understand the root cause of the asymmetry. Only procedural changes are required to ensure we do not experience it again. This was not a function of the crosswind at landing, which was within previously demonstrated levels.
In other words, as the plane rolled along the runway after setting down the throttles of its four engines weren't all at the same setting. When the pilot pushed them all forward to takeoff power, some of the engines were ahead of the others in spinning up and developing more thrust, causing the yaw during liftoff which led to the tails scraping. Presumably the "procedural change" referred to by the company will simply involve something along the lines of bringing all engines to the same idle setting after setdown in a touch-and-go, before increasing to takeoff power.
Scaled insists that there are no longer any issues with rudder authority in the WhiteKnightTwo, some yaw control problems having been identified and fixed prior to the 20 April flight. The company says it always expected that control adjustments would have to be made during the test programme, and that they are now complete - no further rudder modifications will be required.
The company says that it expects to take the initial WhiteKnightTwo - dubbed "VMS [Virgin Mother Ship] Eve" by customer Virgin Galactic - up to 50,000 feet this summer. Wraps have yet to come off the SpaceShipTwo rocketplane which the WhiteKnightTwo motherships will carry up to launch height. Virgin Galactic has ordered an initial fleet of five rocketships and two VMS launch carriers.
Scaled also advises those interested in the programme to "be cautious of what you read if it does not come from either our flight test team or our customer". However the firm also says that it doesn't generally care to disclose details of an active test programme, and only did so in this case because speculation was getting out of hand.
"An obvious downside of a public flight test program is that if the team feels like their learning might be taken out of context by the public that [sic] they may make decisions that do not properly address test safety instead of public perception," says the statement (pdf).
Which is all true, no doubt. However, the WhiteKnightTwo and SpaceShipTwo would almost certainly not exist today if it weren't for the massive media and public interest generated by their predecessors, the Ansari X-Prize winning ships of 2004. This project only exists because of public perception, and people will continue be deeply interested in it whether Scaled Composites like it or not.
The company is going to have to cope with public perception on this programme anyway - in contrast to some of its other work - so it might do better to engage with the public, rather than keep schtum and then get cross when people speculate. ®
*Where a plane lands but doesn't slow down and leave the runway: rather putting on power again straight after touchdown and accelerating to take off once more. This is a routine procedure when testing new aircraft or training pilots.