This article is more than 1 year old
Kyocera Mita FS-2020D
What, no networking?
Review Kyocera Mita makes a range of laser printers and multi-functionals from personal one-per-desk models right up to big-league machines that can handle small-run production print jobs. The FS-2020D is a 'team' printer, so medium-size groups of workers are the users it's been developed for. There are a few things it needs to do to fulfill this aim.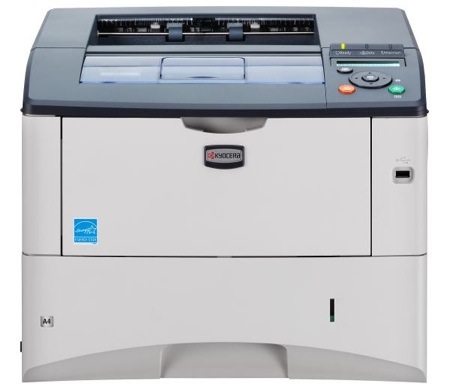 Kyocera Mita's FS-2020D: utilitarian rather than glamorous styling
A workgroup laser needs to be able to take good quantities of consumables so you're not always refilling it. It needs to be quick enough that staff aren't standing idle waiting for print jobs to finish. And, of course, it needs to produce print good enough for general use in an office or to hand to customers. These days, it needs to print duplex and have low running costs, too.
The FS-2020D has a utilitarian design, with a cream-coloured body topped off with a dark grey top. There are two small fan vents on the left side, together with a hatch for the waste toner bottle, but at least the power switch is near the front and the USB drive socket is set in the front panel, rather than being round the back, as on some of the company's past models.
A tinted panel set in the top cover shows the top of the print cartridge inside, so you can see what you need to order as a replacement. The FS-2020D and the two other models in the range, the FS-3920D and FS-4020D, all have different toner cartridges, where the equivalent models in the Kyocera Mita's previous range shared consumables.
The company claims this is to combat the number of counterfeit cartridges available, but it works as a disadvantage if you're a customer who uses different models from the new range, as it means you have to stock extra consumables.
The control panel is simple, but effective, with a ring of navigation controls around an OK button, as well as separate coloured buttons to start and stop a print job. There's a two-line by 16-character, backlit LCD display for status and menu information, and a little raised 'crest' behind, with status and warning LEDs embedded in it. The idea with this is that you can spot a printing problem from across the office, because the lights are raised above the surface of the printer.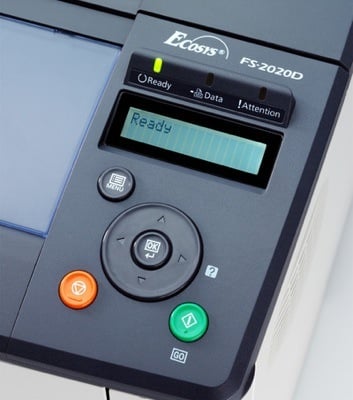 The status lights are raised for improved visibility
It's good to see decent paper capacity in a workgroup printer: the FS-2020D takes a full, 500-sheet ream at a time, which means not only less frequent maintenance, but also that you have fewer half-used packs of paper lying around. Selling a workgroup machine, as other makers do, which can only load 250-300 sheets at a time seems cynical, misguided and designed only to encourage sales of extra trays.