AMD intros $109 Radeon 4-series graphics card
Money-back offer
---
AMD has introduced its latest not-quite-budget GPU, the ATI Radeon HD 4770.
The 40nm, 750MHz core is connected to 512MB of GDDR 5 graphic memory running at an effective frequency of 3.2GHz, but 800MHz in reality. Those speeds yield a texture fill rate of 24 billion texels per second and a memory bandwidth of 51.2GB/s.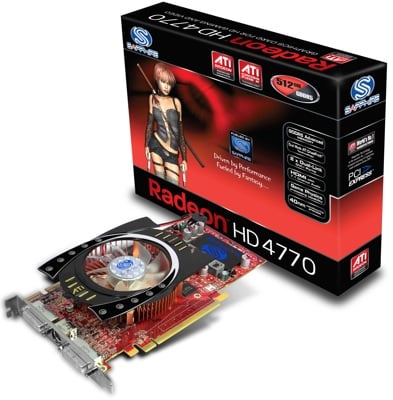 Sapphire's HD 4770: low cost
Sapphire was one of the first vendors to announce 4770-based boards, specifically the Sapphire HD 4770, which, the company claimed, consumes no more than 80W of power. It's a two-slot board with two DVI ports and a TV-out connector on the backplane. These feed a bundled HDMI dongle, which also feeds audio to the screen it's connected to.
The Radeon HD 4770 supports CrossFire X for multi-card rendering, and DirectX 10.1 for the latest games.
AMD was quick to shout about the 4770 estimated street price of $99 (£68/€76), but it turns out that that's after punters send in a "$10 in-the-box mail-in rebate coupon", which may not be available over here. The boards 'standard' price is $109 (£75/€84). ®
Radeon Reviews
Sapphire Vapor-X HD 4850
AMD ATI Radeon HD 4890
Similar topics
Narrower topics