Vaio P-like Android netbook in works?
Averatec unveils 10in 'mystery OS' netbook
---
Speculation's building that a netbook that looks like a cross between Sony's Vaio P and Lenovo's Pocket Yoga will soon be launched running Google's Android OS.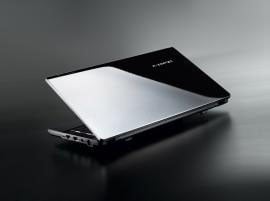 Averatec's 10in netbook: Android-based... possibly
The rumours stem from Tae-Hyun Cho, CEO of Averatec – a firm that's previously launched laptops, UMPCs and satnavs — after he recently said in an interview with Cnet that the firm's upcoming netbook will be "a merger of cell phone and PC technology".
Android's already made the jump from a mobile phone OS to a PC OS – just look at SkyTone's Alpha 680 – so the natural assumption would be that Cho's comment refers to the Google-developed OS.
But he kept the mystery going by refusing to confirm or deny exactly which operating system its unnamed netbook will feature. "The OS is going to be a surprise," Cho said.
Precious little else is known about the mystery machine, but Averatec's CEO added that the mystery machine will be launched – hopefully worldwide – in August or September. ®