Boffins pump out pop-up touchscreen
The latest tactile touchscreen tech
---
Researchers have already tried to overcome the lack of physical feedback on touchscreens by adding on vibration and sounds. But boffins at one university have developed a touchscreen display that literally sports pop-up buttons.
Can't see the video? Download Flash Player from Adobe.com
Chris Harrison and Scott Hudson at Carnegie Mellon University (CMU) in Pennsylvania have created a latex-based touchscreen that features etched buttons able to be inverted or raised.
Their physical form's determined by tube through which air flows in or out, controlled by a pump.
A prototype model, designed for a hole-in-the-wall cash machine sports pop-up buttons for number and action keys.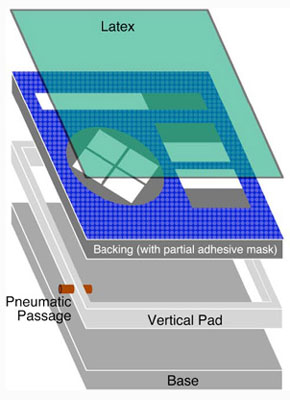 Latex touchscreen buttons are pumped-up through an air pipe
The display also appears to be capable of simultaneously handling convex and concave buttons.
Projectors are used to cast graphics onto the buttons, and cameras positioned below the surface of the buttons sense infrared light scattered by fingers on the surface, according to a Morrison's paper on the design (PDF).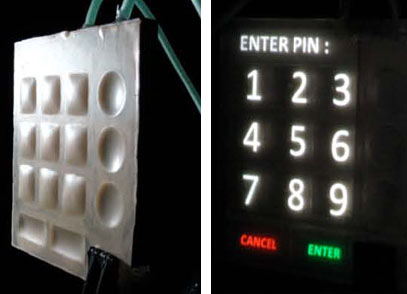 Pin pad perfection?
No plans to commercialise the CMU researchers' technology have been announced. ®