Google apes Digg with iGoogle gadget
'What's popular' popcorn
---
Google has tried aping Digg in a variety of ways over the past few years, but today, it's grabbing for the whole banana.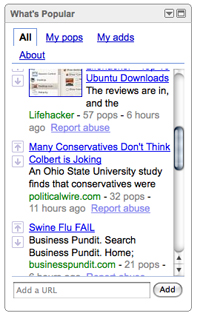 The Mountain View ad-broker just launched its own "crowd-sourced" aggregator gadget for the iGoogle homepage, fashioned after legions of similar services like Digg, StumbleUpon, and Reddit.
As usual, Google's new "What's Popular" widget offers a stream of headlines from across the web for users to vote up if they find them interesting - or down if they don't (positive votes are called "pops"). But Google is also blending user submissions with content that's algorithmagically raided from other Google services like YouTube and Google Reader based on what's popular there.
The "What's Popular" gadget is pretty basic at present. To the left of each headline, there's a simple up or down arrow if users want to pop one over a story. In gadget mode, there's four tabs: "All" showing the most promoted headlines; "My Pops" for stories you've personally voted up; and "My Adds" for URLs you've submitted. Full-browser mode adds the ability to sort stories based on date, popularity, and media type.
Google says users who repeatedly submit content that breaks the company's terms of service will have their ratings and adding privileges temporarily suspended.
To add the gadget, iGoogle users can head over to yonder website and click on the "Add it now" button. ®