This article is more than 1 year old
Honda executes 180° turn on plug-in e-cars
Future's not all hydrogen, after all
'Leccy Tech If you listen very carefully, you can hear the screech of tyres at Honda as the company performs a U-turn.
Ever since Honda President Takeo Fukui said that he saw no value in developing plug-in hybrid vehicles because the technology was immature, we've been anticipating this. And so it has come to pass. Honda R&D Chief Engineer Kenji Nakano has now said that Honda does indeed see the point of plug-in hybrid and range-extended e-cars.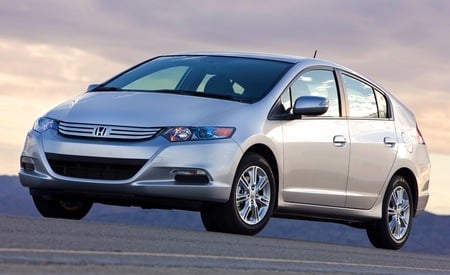 Honda's Insight: coming soon to a wall socket near you?
According to Nakano, speaking at the Society of Auto Engineers 2009 World Congress this week, Honda now believes that a range of hybrid options will be necessary, including mild and strong hybrids, plug-in hybrids, fully fledged battery electric vehicles and even range-extended electric vehicles.
"Hybrids have stayed in the limelight longer than we expected," he said. "Thus, instead of being a bridge technology, hybrids are expected to remain in the mainstream for quite some time." Presumably Honda had previously regarded hybrids and EVs as flash-in-the-pan precursors to the hydrogen revolution.
Last week, at the ground-breaking ceremony for the new Blue Energy battery factory in Kyoto, more light was shed on Honda's Damascene conversion. President Fukui said: "We started working with GS Yuasa with just the hybrid application in mind. We are thinking about extending that application to plug-in hybrids."
Blue Energy is a joint venture between Honda and Japanese battery maker GS Yuasa and will start producing lithium-ion batteries for Honda's hybrid fleet – be they plug-in or not – in 2010.
Fukui - the same man who only last year said that e-cars can only manage 100km (62 miles) on a charge, which suggests he may be a bit behind the times or is paying too much attention to Jeremy Clarkson – steps down as President of Honda in February 2010.
Honda's about-face probably has something to do with the ominous silence from the Obama administration about developing the Hydrogen Highway and the incentives on offer to both the purchasers and makers of plug-in EV and plug-in hybrid vehicles. It seems a good bet that Obama and his advisors see the Chevy Volt and Tesla Model S rather than the hydrogen powered Honda FCX Clarity as the way forward for reduced-carbon personal transport, at least in the medium term.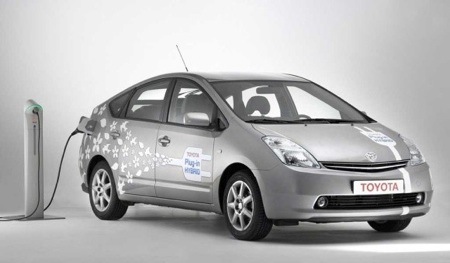 Toyota's plug-in Prius: in ahead of the Insight?
More to the point, Toyota looks certain to go ahead with a lithium-ion battery equipped plug-in version of its Prius. This will give it a distinct advantage over Honda's Insight if the latter is only available as a petrol hybrid. ®