This article is more than 1 year old
Solwise Piggy 6 multi-device powerline network adaptor
Help gadgets get their snouts in the mains broadband trough
Review As more diverse powerline Ethernet products come to market, the practicalities of using mains wiring for networking become ever more apparent. The Solwise VeseNET 200AV HomePlug AV adaptor is good example of how this system can serve locations that are too costly to be hardwired with Ethernet ports or where wireless networking fails to reach.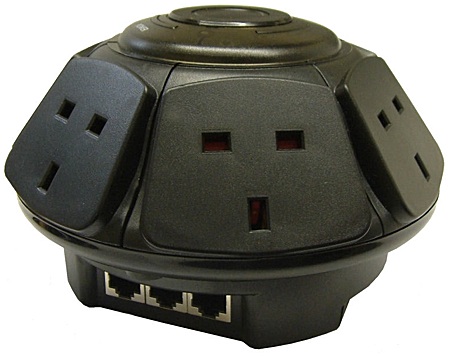 Solwise's Piggy 6: easy powerline Lan connectivity
Thoughtfully described as the PLA-AV-3E-PIGGY6, what appears to be a chunky six socket, 2m, anti-surge mains extension lead, conceals three Ethernet ports in its base and an array of status LEDs.
In essence, this is a peripheral device for an existing HomePlug AV network, as, apart from functioning as a mains extension lead, it can't initiate any networking features as a standalone device. A separate powerline adaptor must be connected to an Ethernet port from a modem or router and plugged into a power socket. It then propagates this feed throughout the mains circuitry of the building. Plug the Piggy 6 into the mains anywhere else on the premises and it delivers networking capabilities from the three Ethernet ports, effectively linking directly to the router.
So, buy the Piggy 6 without a powerline adaptor hooked up to a router and you'll find yourself with a very expensive multiplug extension lead, albeit it a rather eyecatching one. Indeed, its hexagonal design – with a mains socket on each side – is not only fairly compact, it's also very practical. The base elevates it sufficiently to allow even the most awkward of 'wall-wart' external power supplies to be accommodated without touching the floor.
Depending on the width of some PSUs, it may be necessary to reposition bulky devices so that they aren't adjacent to each other but, typically, there is a comfortable amount of space between sockets.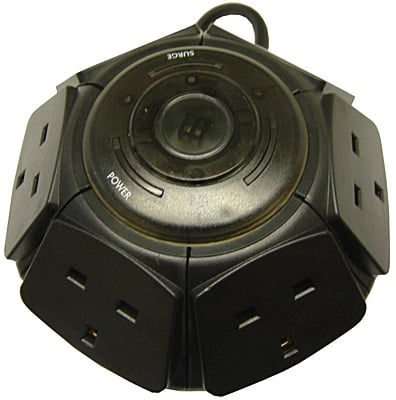 Power at the push of a (big) button
The base features the three 10/100Mb/s Ethernet ports, a vent and a row of five LEDs with a recessed button for factory reset and another for setting up the link's encryption at each end. The LEDs indicate activity on the three Ethernet ports, the presence of a powerline signal and incoming power, regardless of the status of the large push-button mains switch at the top of the unit, which affects only the unit's sockets.