Solwise Piggy 6 multi-device powerline network adaptor
Help gadgets get their snouts in the mains broadband trough
---
On the bottom is a sticker detailing MAC address and the 16-digit device ID used to authenticate the Piggy 6 on secure HomePlug networks. Even though the sticker is slightly recessed, it's a concern that the rough and tumble of living on the floor will eventually wear off this important information.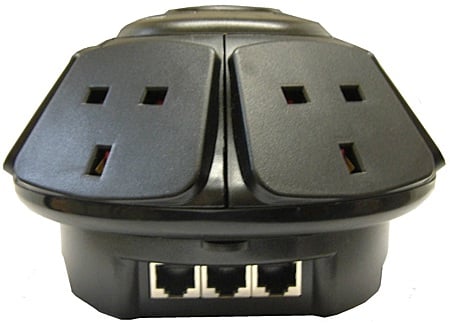 Network adaptor or UFO?
While the manual makes no reference to the device ID, adding the Piggy 6 to a HomePlug AV set-up based on Devolo equipment required this information to permit its use on the network. Solwise has its own application to perform this task and upgrade firmware, if necessary. As with all Solwise's HomePlug AV products, the software is Windows only.
The Security button on the Piggy 6 appears to enable linking with multiple Solwise adapters but didn't work with the encrypted network option feature on the Devolo adaptor.
Being a 200Mb/s HomePlug AV device, although it does operate on the same cabling alongside earlier 14Mb/s and 85Mb/s HomePlug networks, it's not compatible with them.

The security auto-setup button could be easier to reach
Tests proved there was little to complain about, with video and audio streaming easily handled by the device. The practicality of multiple mains sockets is soon appreciated, with its 16A rating allowing a heater or a kettle to be plugged in alongside peripherals, making it ideal for a basement den or office. The Piggy 6 itself consumes a mere 100mA and gets a little hot on the base, exactly where the device ID sticker resides.
Verdict
While the Solwise "no software to install" claim will no doubt be true for use with many HomePlug devices, it isn't necessarily the case for all, and the manual does fall short on information in this regard. Naturally, the networks it can utilise aren't restricted by platform, but the software provided online to troubleshoot a Solwise system is limited to Windows only. So, if you're piecing together a powerline network for Mac or Linux and want configuration options, then Solwise isn't really a one stop-shop. However, the Piggy 6 will play nicely with other HomePlug AV gear and, in so many ways, is a very useful extension to a powerline Lan. ®
More Networking Reviews...
| | | | |
| --- | --- | --- | --- |
| Apple Time Capsule | Solwise Mobile Server Router | Devolo dLAN AVEasy | Addonics micro NAS adaptor |

Solwise Piggy 6 multi-device powerline network adaptor
As always, there's a premium to be paid for powerline gear, but the Piggy 6 offers a very practical combination of features.