Chinese e-car makers show wares
Highlights from the Shanghai Motor Show
---
'Leccy Tech The Shanghai Motor Show last week saw the release of a dizzying number of Chinese e-car models and concepts.
Pride of place went to Brilliance Automotive's EV Concept, a coupé-cum-MPV that looked a little like a four-door Renault Avantime. Powered by a lithium-ion battery pack, the Brilliance EV is apparently capable of travelling 150km (93 miles) on a single charge.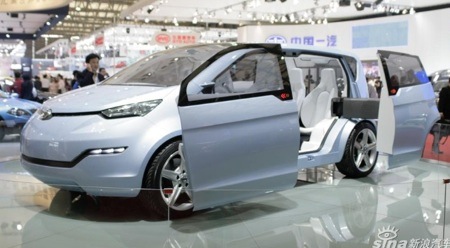 Brilliance Automotive's EV: Avantime-inspired?
Pictures courtesy of Sina.com
Power comes from two electric motors: a 47kW (63bhp) unit hooked up to the rear wheels and a smaller motor connected to the front. The smaller motor does all the work when pootling around town at speeds under 25mph, with the larger unit only joining the party when out on the open road.
While the drive train may make it into production, Brilliance admitted the pillar-less sliding doors and yoke steering column are purely pie-in-the-sky design ideas.
Geely presented its three-seat electric city car, the IG. No technical details about the drive train were available so we had to make do with pondering the necessity of headlamp units that stretch half way along the car and of having only a single door for passenger access - though with a 1+2 seating layout that's perhaps not as silly as it seems at first glance.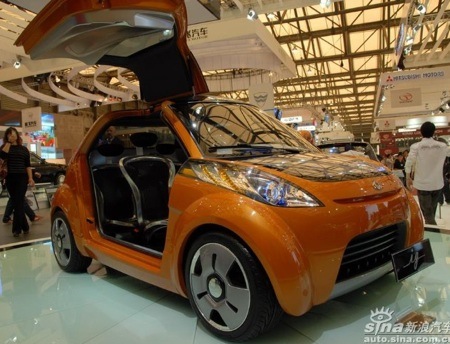 Geely's IG: only the driver in the front
Chery, meanwhile, unveiled its production-ready Riich M1 and Tiggo 3 EVs. The former was a small five-door hatch driven by a 336V lithium iron phosphate battery pack connected to a 40kW (53bhp) electric motor while the latter was a Toyota RAV4-sized SUV driven by a 375V lithium-ion battery back hooked up to a 45kW (60bhp) 'leccy motor.
The Eula or Kulla concept – opinion seems to be divided on how exactly the name should be rendered in English - from Great Wall Automotive was another city car, this time with a claimed range of 160km (100 miles) on a full charge of its lithium-ion battery pack and a top speed of 130kph (80mph).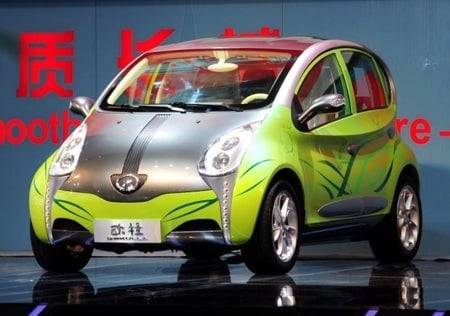 Great Wall's Eula/Kulla: a bubblecar for our times?
Also on display was an electric version of the Roewe 750 – the old Rover 75 to the rest of us – which Shanghai Automotive reckons can cover 200km (125 miles) on a full charge and hit a top speed of 150kph (93mph). Though SAIC owns Roewe, the car was being touted as a research project rather than a move towards a commercially available electric 750.
Easily winning the Ugliest EV in Show award, was Changfeng's CS7 hybrid SUV, its horrid conk diverting interest from its interesting power train arrangement. The front wheels of the CS7 are driven by a 1.3l four-cylinder petrol engine and a 10kW (13.4bhp) electric motor via a CVT transmission. The rear wheels are driven by a 30kW (40bhp) electric motor. Changfeng reckons the vehicle is capable of 30 miles on a plug-in electric charge of its 288V lithium-ion battery pack.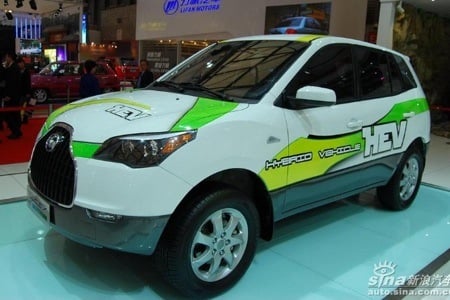 Changfeng's CS7: what a conk
Adding a touch of reality to proceedings were reports that since its release in December 2008, BYD have sold exactly 80 examples of its F3DM e-car in China. High price - 149,800 yuan (£15,000/$22,000/€17,000) – and consumer concerns over both battery life and reliability are considered to be the factors largely responsible for this less-than-impressive showing. ®