Eucalyptus feeds Koala (and vice versa)
"One of the misconceptions about Eucalyptus is that it is able to allow an org to compete with Amazon," Wolski says. "The Amazon AWS cloud is far more than a collection of software components. It operates on a gigantic scale, multiple time zones, multiple data centers, human resources that must be committed to maintain it so it can operate at that scale. It's not likely - maybe even impossible - that you're going to download something from the internet that is going to be able to operate at that scale. Eucalyptus can't really be used for that purpose."
Instead, the platform is a means of building what people insist on calling a private cloud - an AWS-like service for use within the enterprise.
Backed by $5.5m of first-round funding, the new Eucalyptus Systems Inc. will help businesses build and service such private clouds - and perhaps more. "Ultimately, I think we'll be able to build add-on functionality to the open-source base that specifically targets needs within commercial enterprises," Wolski explains. "But for now, we're going offer services and support consulting, to try to understand what the commercial sector needs."
A reasonable plan. But one has to wonder if the use of the Amazon API will come back to haunt the company. Amazon has sidestepped our questions about the use of its API by third-party infrastructure cloud platforms, and it has done much the same with Wolski. "I was at meeting where someone brought me together with someone from Amazon AWS...They were asked directly 'What do you think?' and they said 'No comment.' Which is OK. If we were told to stop, we would. But so far, they have remain silent."
At the time of writing, Amazon doesn't seem to realize Wolski's project has gone commercial. But even when it does, Wolski is confident that the etail giant will see the platform as a compliment to AWS - not a competitor. "Eucalyptus is really a tool that acts as an on-ramp, so that people can use it as a development environment or a way to go into Amazon from their own local resources," he says.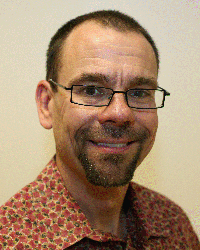 Rich Wolski
Wolski also pitches the platform as a path to the so-called hybrid cloud model, where applications span both AWS and internal data-center resources. "You can move images back and forth. You can select and run the same software in either environment, from the machine management perspective and the storage perspective."
Since its debut in late May of last year, Eucalyptus has witnessed over 14,000 downloads. But Wolski expects a much larger uptake with the release of Ubuntu Jaunty Jackalope, which includes the open-source cloud platform as part of its Universe archive. And you can expect tight integration with the Shuttleworthian Linux for years to come. The follow-on to Jackalope is code-named Karmic Koala. Eucalyptus. Koala. Marc Shuttleworth is trying to tell you something.
"It's no coincidence that Eucalyptus has just been uploaded to universe and will be part of Jaunty - during the Karmic cycle we expect to make those clouds dance, with dynamically growing and shrinking resource allocations depending on your needs," was the word from the founder of Canonical, the commercial arm of the Ubuntu project.
And it's no coincidence that Eucalyptus has suddenly commercialized itself. ®