HP has unveiled its latest series of all-singing and all-dancing laptops with a snazzy selection of words certain to attract the attentions of potential buyers, including "merlot", "minimalism" and, of course, "multimedia".

HP's new ProBook range: features 14in, 15.6in and 17.3in models
The ProBook series consists of five models – all with HD displays - split across three screen size options: 14in, 15.6in and 17.3in. All models were, supposedly, inspired by minimalism and combine both matte and glossy surfaces for a "stylish and clean look".
When it comes to HP's two 14in ProBooks, the main differences appear to be that the 4415s is fitted with an AMD processor, while the 4410s has Intel inside. The duo both have integrated optical drives – with Blu-ray as an optional extra – and the choice of either an ATI Mobility Radeon HD 4330 or Intel GMAZ4500 HD integrated graphics controller.
An HDMI port's included on both models and you'll also get Wi-Fi connectivity. Bluetooth's another optional extra.
Moving up the screen size scale, HP's 15.6in models – the 4510s and 4515s – come with either Intel or AMD processors, respectively. An integrated Blu-ray drive hasn't been mentioned, leading us to assume that neither model features one as standard.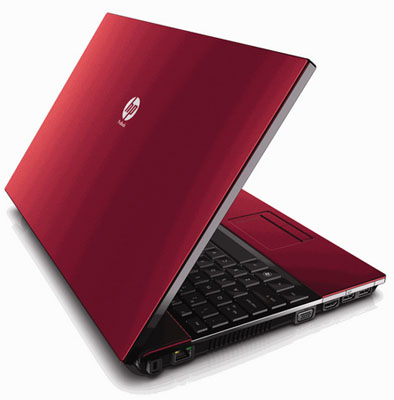 The body colour's "Merlot", not Montepagano
Both 15.6in models seem to have pretty identical features to their smaller screen rivals, aside from the addition of a numeric keypad. HP's made quite a fuss about keyboard design on all the ProBook machines, stating how the "innovative layout" provides… ahem… "a visually open and spacious keyboard".
The keyboard also has a raised surface that supposedly means less dirt and dust will penetrate.
The the top of the ProBook range rests the 17.3in 4710s model, which is fitted with an Intel Core 2 Duo processor and an ATI Mobility Radeon HD 4330 graphics controller with up to 512MB of GDDR 2 video memory. ®