'Leccy Tech While the global car market may be in the toilet, Mitsubishi has high hopes for its iMiEV e-car.
Mitsubishi had been planning to produce 10,000 units of the 'leccy runabout by the end of 2011, but, according to the company's latest figures, it's now targeting 15,000 cars for that year and 30,000 as early as 2013. That 30,000 number is important as it's the per annum volume at which the iMiEV actually makes a profit.
Most of the increased sales will come from the introduction of the left-hand drive version which will be sold in Europe by PSA/Peugeot-Citroen and have a Peugeot badge on the nose.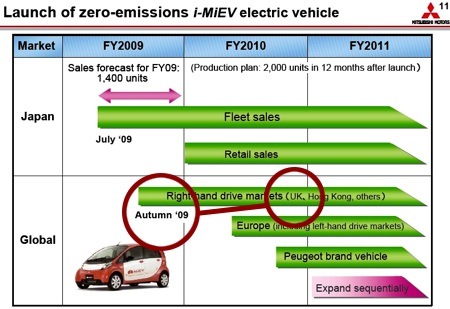 Hurrah!
According to an interesting slide (above) buried among the dry-as-dust numbers, certain right-hand drive markets, including the UK and Hong-Kong, will get the iMiEV as early as the autumn of this year. As we speak, Reg Hardware is knocking on Mitsubishi UK's door to see how true that is.
Of course, while the iMiEV is all well and good, what we really want to know is if and when the iMiEV Sport Air is coming our way. ®