NASA is preparing to launch a tiny satellite loaded with yeast and anti-fungal drugs early next month in order to better understand how bacteria becomes nastier in space.
The nanosatellite, known as PharmaSat, is only about the size of a loaf of bread and will hitch a ride as a secondary payload aboard a US Air Force Minotaur 1 rocket scheduled for launch May 5.
As PharmaSat and its micro-sized passengers circle Earth at 17,000 miles per hour, the miniature laboratory will autonomously experiment and monitor how yeast responds to anti-fungal treatment.
"There's data that's coming back from shuttle and space station missions that indicates something is changing microorganisms in a microgravity environment making them more varied," said Bruce Yost, PharmaSat mission manager at NASA's Ames Research Center.
Those genetic changes could make bacteria more resistant to antibiotics and medical treatment — something scientists are hoping to learn more about before attempting longer jaunts into space such as to the moon and beyond.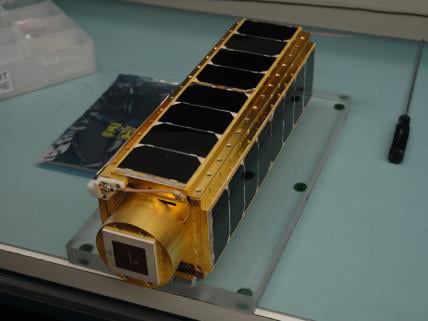 Image courtesy NASA/ARC/Christopher Beasley
PharmaSat won't be studying why the changes occur, but rather the quantitative effect of anti-fungal treatment in a space environment. In other words, measuring just how bad space bugs can get.
When NASA engineers make contact with PharmaSat after launch — which the agency says can happen as soon as one hour after — the satellite will begin its experiment, which will last 96 hours. Beyond a few minor adjustments, the satellite has been designed to take care of itself.
"We have some instances where we can upload some very simple commands to raise temperature, start the experiment early, and things like that," said Elwood Agasid, Pharmasat project manager at Ames. "But for the most part, once the spacecraft is deployed and in space it's pretty much autonomous."
PharmaSat contains a controlled environment micro-laboratory sporting sensors and optical systems that detect the growth, density, and health of yeast cells. Scientists will study how the yeast responds to anti-fungal treatment administered at three dosage levels to help learn how effectively drugs work in space.
PharmaSat builds on an earlier successful mission in 2006 lead by NASA Ames called GeneSat 1, which rocketed E.coli bacteria into space for genetic testing. This time around, NASA is using common baker's yeast for testing because it's genome has been thoroughly mapped by boffins and has a biological structure more similar to humans than lower intestine-lovin' E.coli.
"You might say this sort of yeast is the lab rat of micro-organisms. It's really well studied, its genome has been sequenced and it's used all over the world every day in experiments," said Yost.
NASA Ames hopes sending micro-satellites into orbit to do their scientific bidding will prove more cost- and time-effective than hauling experiments up in a shuttle for International Space Station crewmembers to handle. Key to this plan will be keeping the spacecraft small and light so they can be included as secondary payloads for launches already scheduled by government and private entities.
One potential downside to the plan is that once a micro-satellite mission is complete, the craft effectively becomes additional space junk for space agencies to worry about avoiding later. NASA is pondering novel solutions to this, Agasid said, including using a "solar-sail" to bring the defunct spacecraft back down to Earth.
Yost said NASA will soon be accepting proposals from the wider research community about using the PharmaSat program for other types of experiments.
"PharmaSat is essentially an incubator in one sense, but it also has the ability to introduce specific reagents at specific times," said Yost. "There's a lot of different variations that people want to do with that unit."
As far as NASA's roadmap for microsatellite experimentation goes, Yost said the agency plans to recruit larger and larger critters into the program. The next step up according to Yost is likely sending a nematode into orbit, and later fruit fly embryos, cell tissue cultures, all the way up through lab mice.
You can check out NASA's PharmaSat mission site here or follow the mission on Twitter. ®
Update: There's also a nifty PharmaSat "dashboard" website that will be feeding mission data to the interwebs.