Sony will launch a redesigned PlayStation Portable (PSP) at this year's E3 videogames show in Los Angeles next month, industry moles have revealed.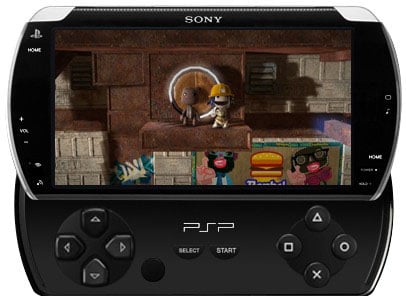 A mockup of what the new PSP may look like
Image courtesy 1UP
Sources "directly involved" with the upcoming PSP have told gaming website 1UP that the updated handheld console will feature a sliding screen with game controller keys underneath.
It's said this layout led Sony to consider naming the new PSP something like 'PSP Flip' or 'PSP Slide'.
The Japanese electronics giant's executives have already talked openly about expanding their support of downloadable content, but have never gone as far as admitting that UMD's a dead duck. So the moles have also, somewhat unsurprisingly, claimed to know that the impending PSP won't support UMDs.
Content will instead be delivered, as expected, through downloads, with Sony supposedly set to simultaneously launch a collection of roughly 100 classic and new titles.
Flash-based storage of up to 16GB is said to have been Sony's memory choice for the updated PSP, but it's rumoured that the device won't sport a second analogue controller stick – a style seen on the PS3's controller.
If the leaked details prove correct, we could be on course to see the PSP Flash – or whatever it gets called – released in Japan this September and in North America around October. ®