Review After four and a half years, Wacom has finally updated its professional-class Intuos graphics tablets. About bloody time! The company has clearly been enjoying itself far too much during this period producing inexpensive but cool and clever tablets for the home-user market, such as the frankly fabulous Bamboo range. Now, the pros get a turn.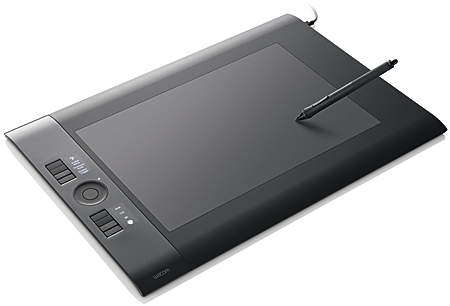 Wacom's Intuos4: great for fingerprints
The Intuos4 range of graphics tablets comprises four sizes: Small (S), Medium (M), Large (L) and Extra Large (XL). In terms of active tablet area, these sizes very roughly equate to A6, A5, A4 and A3 paper-sizes, respectively, with a slightly wider aspect ratio to accommodate widescreen displays comfortably.
We tested the A4-equivalent L, which is a versatile choice for the graphic artist. Jobbing designers might be happier with the M model, while the washboard-sized XL is probably best reserved for precision CAD applications in the architectural and textile industries. The mousemat-sized S model is ideal for everyday computer use although it misses out on a couple of the Intuos4 range's most striking new features, but more on that later.
The Intuos4 is built in funerary black plastic with a matching black Grip Pen. This new stylus is about a centimetre shorter than the Intuos3 equivalent but externally it offers exactly the same functions as its predecessor: a replaceable, tilt-and-pressure-sensitive nib, a pressure-sensitive Eraser nib at the opposite end, and a dual button – usually employed for double-clicking and right-clicking – protruding through the rubberised grip sheath.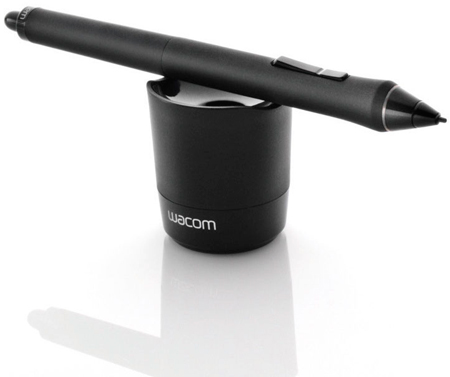 Ten spare nibs and a nib-extractor tool are kept inside the pen stand
Inside, the stylus has been significantly upgraded, now supporting 2048 levels of nib pressure: that's double the sensitivity of the Intuos3 stylus. The Grip Pen can detect a mere single gram of starting weight if desired, although the sensitivity can be adjusted to suit your natural writing or drawing style using the Wacom Control Panel. This makes graphics tasks very smooth, supporting organic, step-free transitions in gradients, brush stroke thickness and other dynamic, pressure-sensitive tools.