Though the DX900 supports 7.2Mb/s HSDPA, it only does so using the primary SIM slot, which also supports quad-band GSM/GPRS/Edge and takes care of the phone's cellular data connection. The other SIM is restricted to tri-band GSM. Additional connectivity is provided by 802.11b/g Wi-Fi and stereo-capable Bluetooth.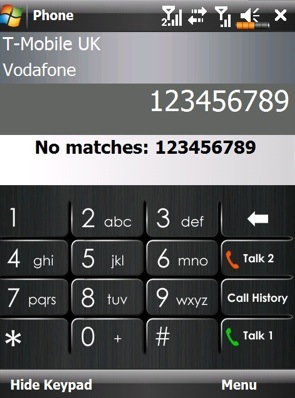 Tap 'Talk 1' or 'Talk 2' to select the SIM to call through
Apart from the two SIM slots, the rest of the DX900's specification is pretty much what you might expect for a middle-of-the-road Windows smartphone.
The autofocus 3Mp camera is nothing more than adequate by today's smartphone standards, though you do at least get a LED 'flash' and the capacity to record 640 x 480 video. The screen is a 2.8in, 480 x 640 resistive affair which is large enough and bright enough for the job in hand but otherwise unexceptional. Above the screen sits a 0.3Mp camera for the 3G video calls none of us actually ever make.
When it comes to software, as a Windows Mobile 6.1 Professional handset, the DX900 gives you the full Microsoft Office Mobile package, which is not to sneezed at. On-board storage is a meagre 256MB, so thank heaven for that memory expansion slot. While on the subject of storage, our test handset would only work with Micro SD cards of 2GB or less - it simply refused the see the 4GB and 8GB Micro SDHC cards we tried.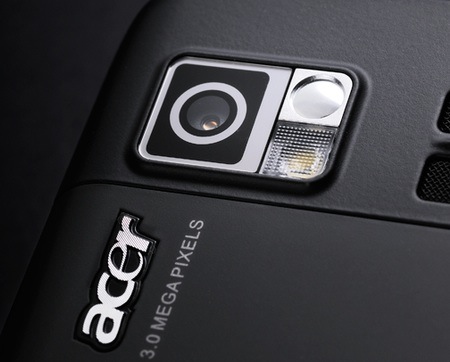 The 3Mp camera's nothing more than adequate
The DX900 comes fitted with a SiRF Star III GPS pick-up which locked onto satellite signals with commendable speed and once locked kept hold of them even in heavily built-up areas. You don't get anything in the way of bundled navigation software but a quick download of Google Maps soon fixes that. What you do get, though, is a virtual compass. That said, ours only seemed to work intermittently.
Similar topics