Call and signal quality when connected to either the T-Mobile or Vodafone SIMs we used during our test proved wholly up to snuff, while the large speaker came into its own when the handset was used hands-free.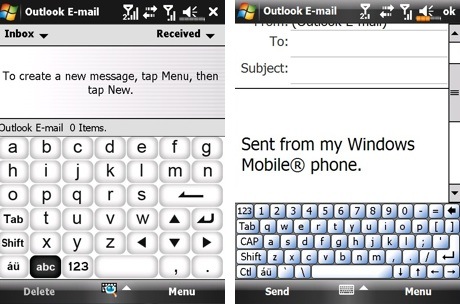 Acer's EasyKeyboard (left) is - yes - easier to use than Windows Mobile's own
Despite coming with a slightly larger-than-average 1530mAh power pack, the DX900 still suffers somewhat in the battery life stakes. Leave both SIMs on, spend an hour or so talking on the phone and fire up the GPS and Wi-Fi for 30 minutes each day, and you may find yourself struggling to last a full working day without suckling at the teat of the National Grid. That may not be much worse than many other Windows smartphones, but from a battery that size we expected better.
If you fancy a dual SIM phone but don't like the look of the Acer you aren't exactly spoiled for choice in the UK. Samsung's C5212 DuoS and LG's soon-to-be-released KS660 handsets both fit the bill, but neither comes with 3G or Wi-Fi. Of course, if you ever find yourself in South East Asia you could always pick up one of the dual-SIM iPhone 'nano' knock-offs doing the rounds.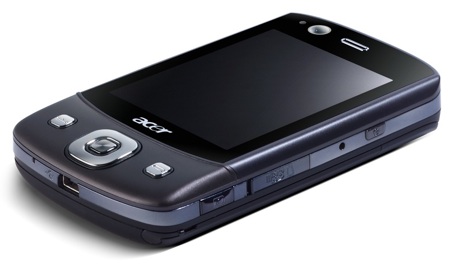 A little chunky, but it feels well made
Currently, the DX900 is only available from specialist suppliers either on contract or for around the £400 mark as an outright purchase, but we will be surprised if it doesn't turn up via the usual mobile telcos and high street vendors at some point in the not-too-distant future.
Verdict
Assuming you can get past the Windows Mobile OS – and we know a lot of you can't – and the less-than-stellar battery life, the DX900 has a lot going for it. The inclusion of Spb's excellent UI is a major plus that pushes the Windows look and feel to the back, as is the ease with which the device handles its two SIM cards. Not a revolutionary handset, but if the dual-SIM functionality appeals, it's a safe enough recommendation. ®
Thanks to Expansys for the loan of the review handset
More Windows Mobile Smartphone Reviews...
| | | | |
| --- | --- | --- | --- |
| HTC Touch Diamond 2 | HP iPaq Data Messenger | Sony Ericsson Xperia X1 | Asus M930 |

Acer DX900 dual-SIM Windows smartphone
If a dual-SIM Windows Mobile phone with a decent UI is what you're after then look no further than the Acer DX900.
Price:
Contract: TBC. Pre-pay: TBC: SIM-free: £400 RRP
Similar topics