Two ergonomic and stylish camcorders have been designed by Samsung that, it's claimed, help take the strain out of, well, you know, filming stuff.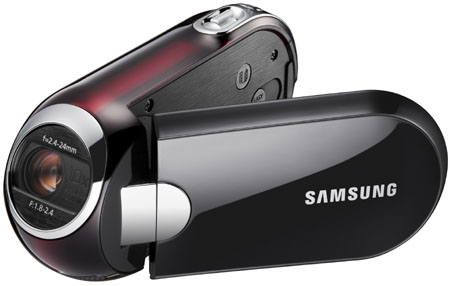 Samsung's SMX-C14 and C10: fatigue fighting lenses
The lenses on the SMX-C14 and SMX-C10 camcorders both slant upwards slightly, a design feature that Samsung's called Active Angle Lens. The point? Apparently, this design helps reduce filming fatigue – such as on your wrist and elbow - because it forces you to hold the camcorder in a more relaxed way.
Storage capacity is the only difference between the two models. The C14 sports a healthy 16GB internal memory and an SD memory card slot, but the C10 only features the latter.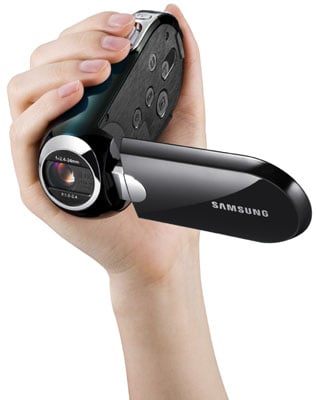 The C14 has internal storage, but the C10 doesn't
Both models have swivelling 2.7in LCD screens that'll display what you're focusing in on using the 10x optical zoom. Image stabilisation's also included to keep your movie content wobble-free.
Animated thumbnail features supposedly simplify the way you search for video clips on both camcorders. Plug-and-play USB connectivity allows you to hook both models into a PC through USB without any prior software installation.
Red accents round off a stylish camcorder design
We mentioned that both models are quite stylish. Well they actually both have identical bodies, but have been given delicate splashes of red down the sides and across the top.
Samsung's SMX-C14 and SMX-C10 will be available to buy in July. Prices haven't been announced yet. ®