Fujitsu LifeBook P8020
Light and powerful - Fujitsu means business
Review Hot on the heels of Sony's Vaio TT and the Toshiba Portégé R600, Fujitsu's LifeBook P8020 is a similarly small and light affair looking to tempt business types away from the likes of Lenovo and Dell. Netbook fans will yet again baulk at high price tag, but there's clearly still a market for premium ultra-portable laptops offering more oomph than an Atom processor can muster.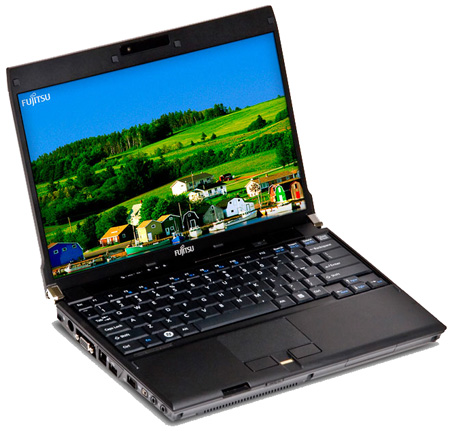 Fujitsu's LifeBook P8020: small, light and (fairly) stylish
Incidentally, if you're wondering what happened to Fujitsu Siemens Computers, Fujitsu went and guzzled up all of Siemens' shares in the partnership earlier this month – the company is now officially known as Fujitsu Technology Solutions.
Back to the LifeBook P8020, and its 12.1in screen, 1.4GHz Core 2 Duo SU9400 processor, 2GB of Ram and built-in DVD writer are all a step above what you'd find on a netbook. And at just 1.3kg - or 1.6kg including the power adaptor - you'd be hard pushed to find a similar spec'd laptop that's any lighter.
With its all-black chassis, the LifeBook makes a good first impression – give it a couple of days, though, and the glossy lid will become a holiday park for smudge marks. There's nothing out of the ordinary in terms of ports. The right side of the laptop is home to a DVD writer, PC Card slot and USB port, while on the left a further two USB ports are joined by mini-FireWire, Gigabit Ethernet, VGA, power and audio sockets. On the front lip, you'll find a Wi-Fi switch sitting alongside an SD card slot.
With the keyboard, Fujitsu has resisted the temptation to shrink the likes of the Return, backspace and the two Shift keys. However, with the other keys measuring just 12mm x 13mm, it's fiddly to use and very tricky to type on at speed if you've anything but petite pinkies. On the plus side, the keys have a decent amount of travel and there's very little flex.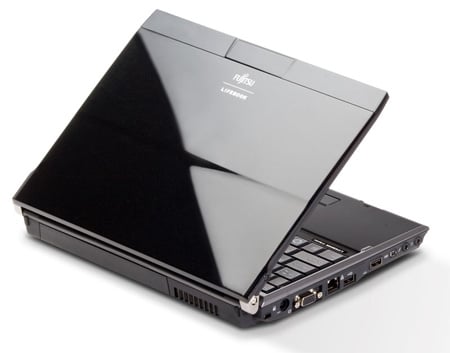 The glossy lid will soon become festooned with finger marks
The textured trackpad is of a decent size and feels good to touch, although the left and right buttons are a little too spongy for our liking. Being aimed at corporates, it's no surprise to find a fingerprint reader between these buttons.