Fujitsu LifeBook P8020
Light and powerful - Fujitsu means business
---
A selection of customisable shortcut buttons is to be found just above the keyboard, as are some of the worst speakers we've heard in a long time. Admittedly, few would buy the LifeBook P8020 with the intention of using it as a jukebox, but when audio starts to distort at anything more than 50 per cent volume there's something seriously wrong.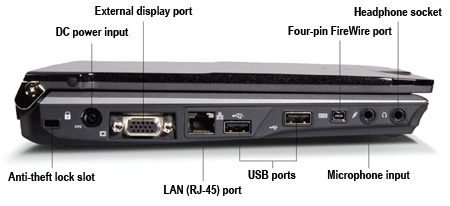 The usual suspects
The underside provides access to the two Dimm slots – one houses a 2GB DDR 3 module, the other lies empty awaiting an upgrade. The six-cell battery keeps neatly within the confines of the chassis – remove it, and a Sierra Wireless MC8790 3G module is revealed which offers speeds up to 7.2Mb/s downstream and 2Mb/s downstream.
Of course, what's achievable will depend on the network choice, location and how many other people are trying to use the service. In our tests with a Vodafone SIM near Gatwick Airport, we achieved around 1Mb/s downstream and a rather pacey 1.8Mb/s upstream. 802.11n WiFi at both 2.4GHz and 5GHz is offered courtesy of an Intel WiFi Link 5300 card, while shorter-range connections can be made using the built-in Bluetooth module.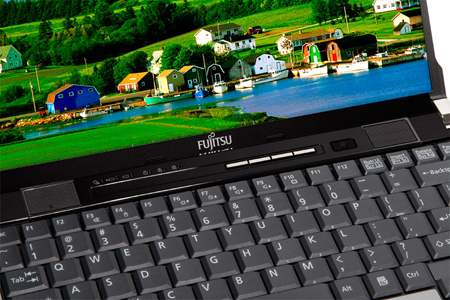 Finger trouble: compact keys make for awkward typing
As is the trend these days, Fujitsu has gone for an LED backlit display, which gives battery life a boost. The 12.1in screen manages to kick out impressively bright images – so dazzling, in fact, we had to dim it on occasion just to save our eyes. However, stray from the square-on sweet spot and the display soon loses its vibrancy – vertical viewing angles are particularly poor. Fujitsu has opted to furnish the display with a glossy coating, which, as usual, means both colours and reflections get enhanced.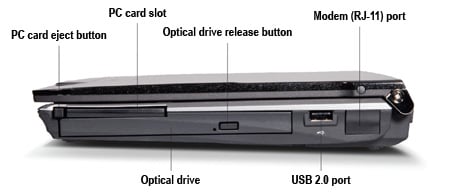 The blanked out-port is where the 56Kb/s modem would have been
At 9mm, the display isn't as wafer thin as that of the 4mm screen on the Sony TT or the 5mm Toshiba Portégé R600. However, its slightly bulkier form means that, although it's reasonably bendy, it doesn't exhibit such a worrying amount of flex as the Tosh or Sony. If videoconferencing is your thang, then there's a 1.3Mp webcam just above the display.