This article is more than 1 year old
Windows 7 — It's like Vista, only less annoying
The mop-up starts now
Review Today, Microsoft will start official downloads of the Windows 7 Release Candidate. It's the last-planned release of Windows 7 before Microsoft sends the polished code to OEMs and starts boxing up the bits as product.
It's been nearly four months since Microsoft released its only Windows 7 beta, and it's likely that further changes to the code following this week's release on MSDN TechNet and next week's broad availability will be restricted to bug-fixes. Senior vice president Steven Sinofsky described the RC as "Windows 7 as we intend to ship it" and said there would be no further public previews before final release.
I put the Windows 7 beta through its paces as well as last October's initial code tester. So what can you expect Windows 7 to finally look like based on the RC?
Installation was smooth on a Dell M1330 laptop loaned by Microsoft for Windows 7 testing. So it should be - this machine has 3GB RAM - but a common complaint in Windows Vista's early days was that even powerful machines became slow and unresponsive. Windows 7 really is faster. For example, a post on Microsoft's Engineering Windows 7 blog explains how synchronous calls in the Windows Graphics Device Interface (GDI) can cause "a frozen desktop anywhere from 100msec to several seconds".
This is the kind of thing that infuriates users, because it turns fast machines to glue. The solution was to re-architect GDI concurrency. Windows 7 also eliminates a Windows Vista feature whereby every GDI window was held in memory twice, reducing memory consumption and speeding performance. Although attention tends to focus on visible features like the new taskbar, this kind of tuning is equally or more important in making Windows 7 a more pleasant experience for users.
So what's different since January's beta? Aero Peek, which displays a full-screen preview of an application before you switch to it, has been extended to alt-tab switching as well as taskbar thumbnails, so you no longer need the mouse. The feature is genuinely useful and makes an interesting comparison with Vista's Flip 3D, which is prettier but far less usable.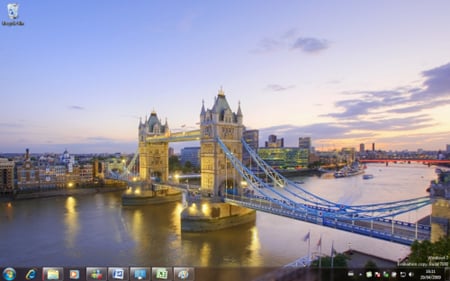 A better Vista: welcome to Windows 7
Jump Lists, which appear when you right-click a taskbar icon, are now more useful because more applications support them. Control Panel, for example, now has ten jump list shortcuts.
Remote Media Streaming has been added and lets you access your home music and video over the Internet. It depends first on correct firewall and port forwarding, second on the easy home networking called home groups, and third on what Microsoft calls online IDs.
An online ID links your windows account with an online provider, which currently means Windows Live but could be extended. You can then stream media over the Internet to roaming home group members. Spotify strikes me as easier and more reliable.