The OpenBSD developers are channeling Tron to celebrate the release of version 4.5 of their open source operating system.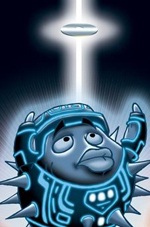 Before we jump into the OS's new shinies, the team deserves a proper nod for having good fun with their releases. Version 4.5's release song (as is the tradition) is "Games," featuring the proper dose of open-source grousing with lyrics like You wanna know the truth? / Intel's controlling you / And Microsoft is too / But this is nothing new.
You can check the tune here along with their Tron-related artwork for the release.
On to business: OpenBSD 4.5 includes the usual swath of drivers, fixes, and hardware support improvements, including an initial port to the ARM-based OpenMoko phone handset platform.
Support has also been added for virtual I/O between logical domains on Sun's CoolThreads servers, and UltraSPARC IIe CPUs can now scale down the CPU frequency to save power.
Driver updates include support for SDHC Flash media. OpenSSH has also been updated to 5.2. Head to the official 4.5 release notes for the nitty-gritty.
The software is available in yonder above link from a variety of mirrors as well as a CD release for $50, with proceeds going to to supporting the developers of the project. ®