This article is more than 1 year old
Nikon Coolpix P90 bridge camera
Super zoom, so-so pictures
Review You know, there's a lot to be said for superzoom cameras. Instead of lugging around a DSLR camera and a stack of lenses, you can stick a massive zoom onto a camera that's a little smaller than your average DSLR and simply carry that around. Nikon's Coolpix P90 is a superzoom bridge camera with a whopping 24x zoom. It's aimed at users who want more than a compact and a little less than a DSLR, but the question is: does the P90 offer enough to satisfy this type of user?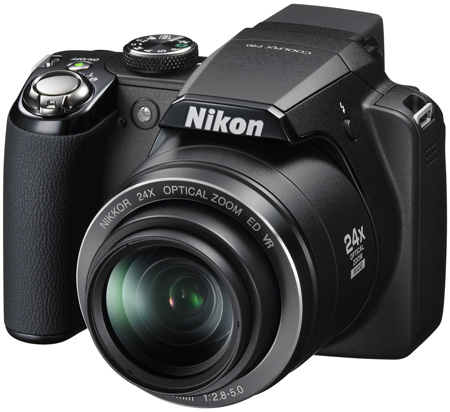 Nikon's Coolpix P90: get up close and personal with this superzoom lens
The P90's design is definitely more DSLR-inspired than compact-influenced. It's a chunky camera with a plastic body and cradles nicely in the hands. It's rather large for coat pocket though, so it's not so convenient for carrying around than say, a travel-camera like Canon's PowerShot SX200, which to be fair, 'only' offers a 12x zoom. The P90 measures 114 x 83 x 99mm and weighs 500g with battery and card.
A quick tour reveals, on top, a mechanical pop-up flash, mode dial, tiny power button, and at the front, shutter button and zoom lever. At the back is a monitor button for switching between the LCD and the electronic viewfinder, the latter a 0.24in EVF with 230,000-dot display; a display mode button and a control dial which is used for adjusting settings such as shutter speed and aperture.
Underneath these is a 3in LCD screen composed of 230,000 dots. It's attached to a hinged arm that enables it to be pulled forward and tilted 90° up or 45° down. Next to the screen are the playback button, multi-way controller, menu button and delete button.
On the right is a small plastic cover hiding a mini-USB port. This cover seemed rather flimsy and we do question its longevity. Underneath is another cover for a lithium-ion battery and SD/SDHC card slot, plus a tripod mount.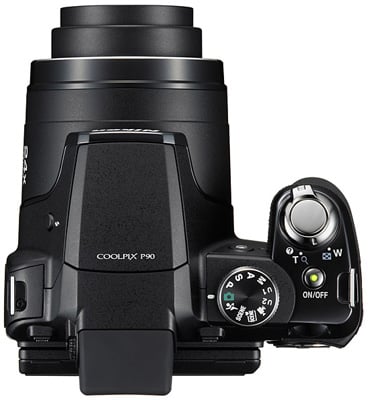 No complaints getting to grips with this big body
The P90 features a 12.1Mp (effective) 1/2.3in CCD; a 24x zoom in the form of a 4.6-100mm f/2.8-5.0 Nikkor lens offering the equivalent of a 26-624mm lens on a 35mm camera; image resolution range from 4000 x 3000 to 640 x 480; shutter speed range 1/2000-8s, although in some continuous shooting modes this is bumped up to 1/4000-1/20s; an ISO range of 64-6400, although the file size is limited to 3MB at 3200 ISO and above.