This article is more than 1 year old
Nikon Coolpix P90 bridge camera
Super zoom, so-so pictures
It's no surprise that a camera offering such a long zoom offers four anti-blur systems. These comprise of a CCD-shift system Nikons calls Vibration Reduction; a High ISO mode, Motion Detection and Best Shot Selector, which takes up to ten frames, and then selects and saves the sharpest one. Nikon's D-Lighting technology is also included, which can be used to tweak brightness and contrast in both shooting and playback modes.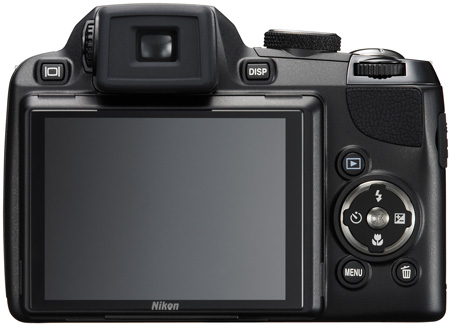 Easy access to basic functions but shooting modes are buried in menu pages
You also get the usual face-, smile- and blink-detection systems, and there's a good selection of continuous shooting modes including, one that shoots at 1.4fps at maximum resolution. But the P90 can do much better than this if you're content to shoot at a lower resolution.
Multi-shot 16 fires off 16 shots at 7.5fps - with a maximum resolution of 2592 x 1944 - and displays them as a single picture, while Sport Continuous mode offers a top speed of 15fps for up to 45 frames at up to 2048 x 1536. Finally, there's a movie mode offering VGA-resolution at 30fps and 15fps, QVGA-resolution at 15fps, and time lapse recording with an interval time range from 30 seconds to 60 minutes. Oh, and you even get 47MB of internal memory.
In general, the P90's handling was somewhat disappointing. It's comfortable to hold with a nice rubberized grip and a thumb rest but, oh dear, Nikon definitely needs to work on the rest of the user interface.
Although the EVF has the same number of pixels as the LCD screen, the image looked coarser. Contrast was poor and colour reproduction was, frankly, diabolical. Colours were over-saturated and when we took a shot of a green door, it looked dark blue in the EVF – Nikon really should have given the P90 an optical viewfinder. The articulating LCD screen is useful for shooting at various angles, but the screen is one of the worst for viewing in bright sunlight.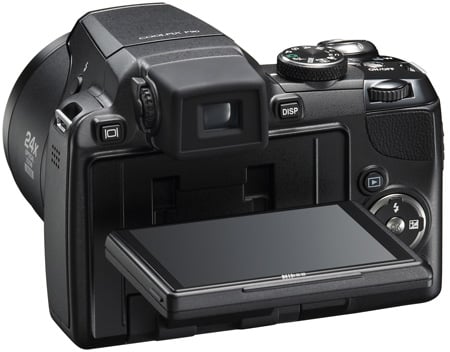 The versatile LCD panel is handy but fails to shine in bright conditions
There's a good sprinkling of camera modes: auto, program AE, aperture priority, shutter priority and manual. You can also save a couple of settings in PASM modes for fast access on the mode dial, and there are also fifteen scene modes including landscape, food and panorama. There's even a dedicated setting on the mode dial for sport continuous mode.