Review As they say, it ain't what you do, it's the way that you do it. The LG's KM900 - aka Arena - may pack in an impressive quantity of functionality, but the real question is whether LG's new S-Class touchscreen UI, making its finger-dabbing debut on this device, has the touch.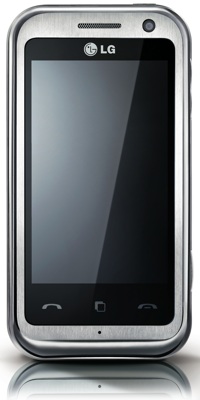 LG's Arena: smooth and stylish
The Arena delivers plenty of contemporary multimedia features, including Assisted GPS, Wi-Fi, HSDPA 3G, a 5Mp camera and a media player with Dolby Mobile enhanced sound and an FM transmitter. There's 8GB of on-board storage, plus MicroSD expansion support for up to 32GB of additional memory, and a rich, bright 3in, 480 x 800, 16m-colour display for showing off its multimedia capabilities.
Its classy build, with either silver or black titanium bodywork, certainly grabs the eye in that now-familiar minimalist iPhone-style slab-phone kind of way. Smooth, rounded and a shade under 12mm thick, the Arena has a reasonable 105.9 x 55.3 mm footprint and weighs a pocket-friendly 105g. It still feels robust in hand, with the metal framework complemented by scratch-resistant tempered glass protecting the display. Like many touchscreen models, it doesn't show well in bright sunlight, but is otherwise one of the sharpest we've seen.
It has minimal touch sensitive buttonry on the front: Call and End plus a menu button that all disappear in to the black background when not in use. There's a discreet selection of buttons on the side - volume/zoom and camera - and a power/lock button on top. Next to this, LG has added a standard 3.5mm headphone socket.
For any touchscreen phone, usability is key. With all major mobile makers trying to lay a glove on Apple's benchmark iPhone UI, S-Class is a step up from LG's recent touch models such as the Renoir, Prada II and Cookie.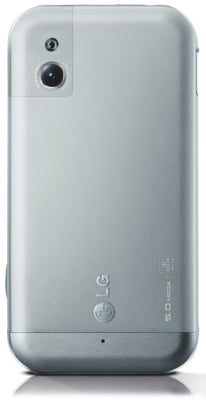 There's a 5Mp camera on the back
It's a busy set up, with its main menu paying more than a passing nod to the iPhone. It's not completely all-new: one element we've seen before is the LG Arena's multiple menu screens, which you can flip between with a swipe of the finger across the display. These offer four different versions of the home screen, one based around Contacts – showing selected favourites in a finger-swishable carousel or grid - another displaying your chosen app Shortcuts, a third for user-selectable on-screen Widgets, and an alternative Multimedia home screen, displaying twin rotating reels of music tracks and video content you can dab to play.