Opening up the main menu, though, is where you see some significant changes in the way LG has structured S-Class. It adopts an iPhone-style grid of icons categorised under four headings: Communication, Multimedia, Utilities and Settings.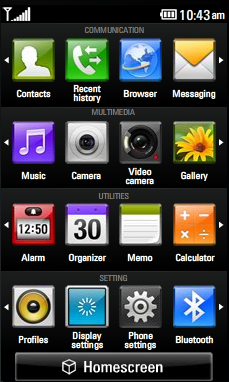 Arrange the main menu vertically...
In portrait orientation, you can swipe sideways to flick through further options on each line. Flipping the phone sideways engages the built in motion sensor, automatically rotating the screen and doubling the number of icons displayed from 16 to 32. Thanks to distinctive labelling, and the crispness of the higher resolution display, it's still easy to read and make selections.
The screen was usually pleasingly responsive on our full production handset, and the phone processed commands quickly, with user-variable haptic feedback confirming presses. It's not as effortlessly elegant as the iPhone UI, but it is a big imrovement on previous LG touchscreens.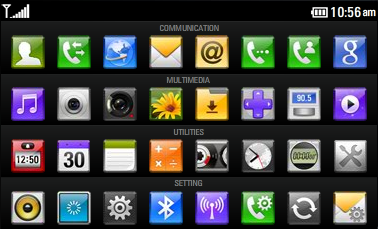 ...or horizontally
Surprisingly, however, LG's new UI has done little to address the issues with texting and other messaging we've encountered and fussed over in previous reviews of its touchscreen phones. For such an essential and basic part of the phone user requirements, texting should be a breeze. Any touchscreen UI can have drawbacks against lower-tech but quick-to-press conventional keypads.
However, the Arena does itself no favours, with the virtual alphanumeric keys used when messaging restricted in size by control buttons running down the right hand side. As well as reducing finger space, it also requires careful dabbing to avoid mis-pressing keys that will change the input method or clear options – which can be frustrating if you're in a hurry.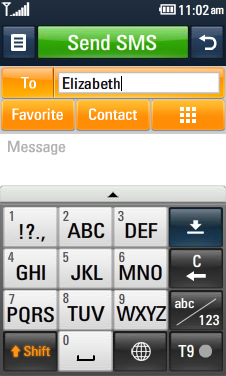 Not the best touchscreen texting UI we've seen
It's a shame LG didn't opt for something like the full-width numberpad used for dialling, which works fine. Selecting contacts too can be a little longer-winded than normal with a conventional phone.
Similar topics