There is an alternative Qwerty keypad input method, which automatically kicks in when the phone's switched into landscape mode. This, too, requires careful attention for accurate message writing – we found our largish fingertips didn't suit the limited space available and our message-tapping irritatingly error-prone.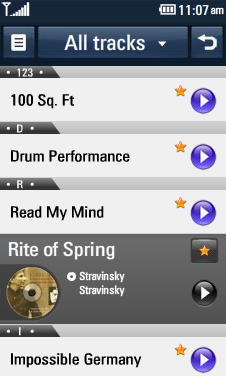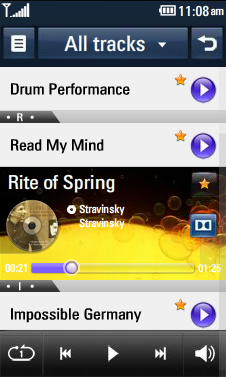 The music player's been refreshed
The S-Class refresh is carried over neatly into plenty of the Arena's features. The rotating reel used on the multimedia home screen is a slick way of selecting tunes and video clips. You can build wheels of favourite content to carousel through, and the media player widget looks smart and works effectively.
The LG touchscreen music player interface has been spruced up too, with a decent look and selection of control and setting options – including a Dolby Mobile sound option for the equaliser.
With 8GB of on-board storage and a Micro SDHC card slot, there's ample room for multimedia goodies. Downloading content over the air is quick thanks to 7.2Mb/s HSDPA and Wi-Fi, though tunes can be easily transferred from a PC using the supplied USB cable and either LG PC Suite software or Windows Media Player, or beamed over Bluetooth.
The LG Arena really excels in the multimedia department. Sound quality is highly impressive for the music player, with a rich, detailed sound that gets added presence by switching on the Dolby Mobile audio processing.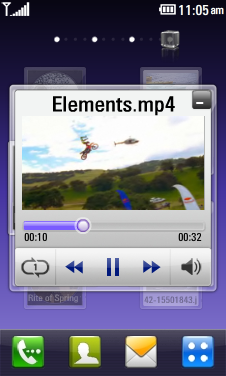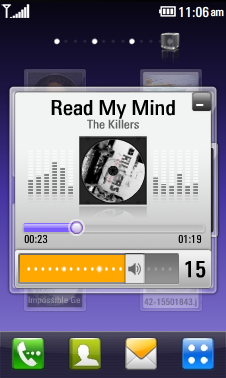 In-menu movie and music playback
That LG packs a decent set of in-ear earphones is a bonus, but you can also add your own. An FM transmitter built into the Arena enables you to transmit tracks to nearby radios, so you can listen to tunes you're playing in the car or on a home radio. It's simple to tune to a free station, with a nifty rotating tuner dial making it all very intuitive. A similar dial interface is used on the phone's FM receiver.
Similar topics