Browsing clips or images in the gallery is a smooth experience too, thanks to the finger-flicking control and transitions as you swipe through your files. Open a picture, and you can enjoy the Arena's multi-touch pinch-to-zoom finger action. Similar to the iPhone's system, it's been seen before on the Prada and it works effectively enough for quickly zooming in and out.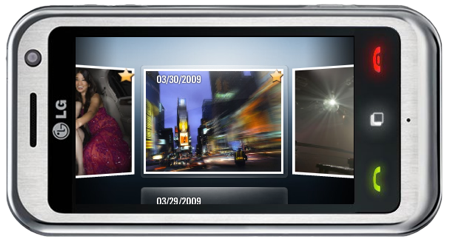 Browsing your pictures is smoothly done
It's employed on the browser as well – so you can zoom in and out of web pages, making it much easier to click on links and negotiate pages on the small screen. The browser is pretty good for a regular mobile, with the option for tabbing between different pages and accelerometer-controlled page rotation giving room to view. It's a decent effort from LG, working speedily at downloading sites via Wi-Fi or high-speed mobile networks. It's not as smoothly efficient as the iPhone's browser, but it's better than most non-smartphone devices. RSS feeds are supported too.
LG has loaded the Arena with a folder of Google-sourced apps and online links, including YouTube, Blogger, Google Mail, Search and Maps. The latter ties into the A-GP so you can get accurate location finding and route planning. It's not a full-on satnav app, but it can be an extremely useful service to have at your fingertips.
All the usual organiser staples are covered too, including calendar, alarms, stopwatch, memo, voice recorder, world clock and a unit convertor. A selection of familiar LG motion- and touch-controlled M-Toy games are loaded, along with the Picsel document viewer to take care of email attachments. Standard LG PC Suite software syncing options are available too.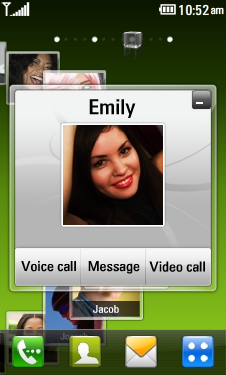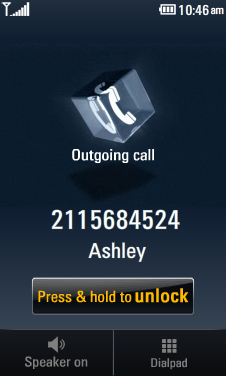 Who to call? Em or Ash?
On the basics of voice calling, the LG Arena rated very highly, presenting a suitably solid, clear and reliable performance. Power consumption is reasonable for a feature-stacked touchscreen device like this. LG claims optimum battery life figures of up to 300 hours standby or 230 minutes talktime. In our tests we usually managed to take it just above two days between charges with our normal usage, though you can expect less with heavy use of more juice-sapping features.
Verdict
Slim and eye-catching, the LG Arena has many attractive features. Its S-Class UI certainly raises LG's game - it's intuitive, easy on the eye and more user-friendly than LG's previous efforts - even if it's still not quite up to the iPhone's easy usability and smartphone flexibility. LG needs to work on message tapping - it's too fiddly for such an essential communication component. Nonetheless, as a multimedia handset, the Arena stages a high-class show. ®

LG Arena touchphone
With its new S-Class UI, the Arena boasts a slicker, more user-friendly touch performance than past LG touchphones. But not quite Apple cool.
Price:
Contract: Free to £245. Handset only: £379 RRP
Similar topics