The Trekosphere has got itself into a bit of a tizz over the culling of the Klingon lingo from the forthcoming Star Trek movie.
According to SCI FI Wire, co-writer Alex Kurtzman broke the terrible news on Sunday when he confirmed: "We actually had a sequence that ended up getting cut from the movie that took place on Rura Penthe, in a Klingon prison. And there was definitely Klingon spoken in the movie, and it ended up getting cut."
SCI FI Wire explains that Rura Penthe is "the Klingon prison colony on an ice world, which was first featured in Star Trek VI: The Undiscovered Country". It elaborates: "Images of Nero in the prison - and the line 'The wait is over' - are featured in the trailer but do not appear in the movie."
For shame. However, far more serious is the loss of a birth scene featuring Winona Ryder as Spock's mum Amanda Grayson and her Vulcan sprog, suitably attended by doting dad Sarek: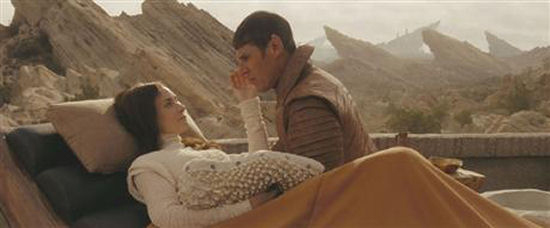 Back in 2007, when Ms Ryder was confirmed among the Star Trek cast, we considered the idea of her suckling an infant Leonard Nimoy as potentially a major crowd-puller. We reckon this ill-advised consignment of the scene to the cutting room floor may hit the box office hard when the film opens on 8 May (but not in Mexico). ®