This article is more than 1 year old
Man survives death march to display-on-a-chip
Looking into the micromirror
Happy Birthday, IC Today, the Digital Micromirror Device puts images onto new-age movie screens. But in a past life, this light-bouncing semiconductor was a print technology.
Sometime in 1984, inside a Texas Instruments research lab, Larry Hornbeck and his cohorts first demonstrated their tiny-mirror tech by printing a few choice words on spare square of Polaroid camera film.
"George," the film read, "send more money."
George was George Heilmeier, the Texas Instruments chief technology officer who had pioneered the liquid crystal display as a researcher at RCA's corporate lab in the mid- to late-60s. Heilmeier did send more money - time and again, for years to come. "He enabled me to exist," Hornbeck says.
And with Hornbeck alive and kicking, Texas Instruments would eventually put Digital Micromirror Devices (DMDs) into everything from digital light processing (DLP) projectors and high-def TVs to cell phone displays.
Hornbeck called Heilmeier "Father George." It's the classic story of a parent who gives his child what he couldn't have for himself. After discovering the electro-optical properties of liquid crystals under the aegis of RCA, Heilmeier left the company when he realized - one rainy New York night - that the TV giant didn't share his passion for the LCD. Heilmeier gave Hornbeck the sort of corporate love he - Heilmeier - never got from RCA.
RCA let the LCD TV get away. Others did similar work on liquid crystals, and years later, the LCD was brought to market by the Japanese. But with the DMD, Texas Instruments crafted its own flat-screen TV technology. It's only fitting that when George Heilmeier enters the National Inventors Hall of Fame on Saturday night at Silicon Valley's Computer History Museum, he'll be joined by Larry Hornbeck. This year marks the 50th anniversary of the integrated circuit, and in celebration, the Hall has embraced fifteen researchers who demonstrated a certain knack for ICs, including Intel co-founder Gordon Moore and MOS transistor pioneer John Atalla.
The DMD began life as an effort to build a spatial light modulator. In 1977, at TI's Central Research Lab, Hornbeck conceived the Deformable Micromirror Device, a chip that used an array of mechanical mirrors for optical signaling. The project was a dead-end - at least commercially - but by the early 80s, Hornbeck, Heilmeier, and Texas Instruments had transformed the DMD into a printing device.
By reflecting light off their micromirror array - each mirror corresponding to a different pixel - Hornbeck and Co. could selectively charge and discharge the photo-conductor coated onto a print drum. The charged bits would apply ink to the page. But their analog technology - with its cantilevered mirrors - wasn't up to the mass market. Contrast and brightness uniformity were poor, Hornbeck says, and the mirrors required high-voltage, which meant they were ill-suited for use with a standard MOS address circuit.
So Hornbeck went digital. "It evolved into this effort to develop a micromirror device that could be integrated directly onto a silicon chip using conventional manufacturing techniques," he tells The Reg. "We built the first truly monolithic micromirror technology that could be manufactured in a conventional wafer fab with materials that were already there, on machines that we already there."
In 1987, the Deformable Micromirror Device became the Digital Micromirror Device. The new DMD was ideal for projectors - not to mention cell phone displays and flat-screen TVs. Again, you have an rectangular array of micromirrors, and each mirror represents a pixel. Light shines onto the array, and as the mirrors tilt and re-tilt - thousands of times a second - the light is either redirected through a projection lens or bounced aside and into a heat-sink.
But the beauty of the device is that all this is done with digital switching. "You're immune to conventional degradation mechanisms you see in analog displays," Hornbeck explains. "You can be under very adverse conditions, temperature and humidity and so on, and nothing changes."
And since the mirrors are small enough and fast enough for integration onto a single chip, you can stuff them into a cell phone, driving a display with a color wheel or an LED.
DMD cell phones are now on the market in Korea. And the rear-projection DLP TV offers an alternative to LCDs and plasmas. But most notably, Hornbeck's baby is the de facto standard for digital cinema. DLP hardware rules 98 per cent the market.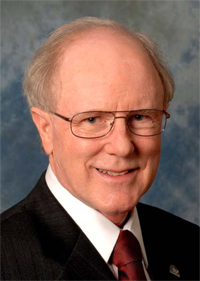 Larry Hornbeck
Much of the credit, Hornbeck says, belongs to George Heilmeier. But Heilmeier's DMD love was a tough love. Sometime in the early 80s, while DMD was still a printing technology, Heilmeier told Hornbeck that - whether he realized it or not - he was working to put a display on a chip. "Many good men have been crushed by that effort," Heilmeier said, with the emphasis on "crushed."
It never occurred to Hornbeck that Heilmeier may have been referring to himself. Hornbeck was too busy trying to prove he could complete the project unscathed. He wrote Heilmeier's words on a whiteboard in his office, and they stayed there for nearly a decade. "George was the type of person you were desperate to please," Hornbeck says.
And please him Hornbeck did. The words came down when, during a state-of-TI-Research speech in the early 90s, Heilmeier told the company that Larry Hornbeck was an example of what you could accomplish with hard work and perseverance. Of course, hard work and perseverance gets you only so far. Sometimes, you need a patron. ®