NSFW We're not quite sure what Pravda has got against vegetarians, but having last year slammed meat-dodgers as a "perversion of nature", it's now declared them limitlessly insane.
Fair enough, but in debunking six veggie myths - including that salad-fanciers are slimmer, healthier and live longer than those for whom the bacon sarnie represents the greatest culinary delight since God bade animals hang their heads over the farm gate - Pravda has made what could be its most reckless claim ever: That kebabs pose "no danger whatsoever" to human health.
True, it's talking about shish kebab - widely considered by experts to be marginally less lethal than its doner cousin - but we reckon the Russians may have stuck their necks out too far this time.
We invite Pravda to prove the health benefits of the shish kebab, perhaps by inviting PETA pin-up Alicia Silverstone to get her laughing gear round a few, because the poor girl looks like she's gagging for a bit of hot meat action: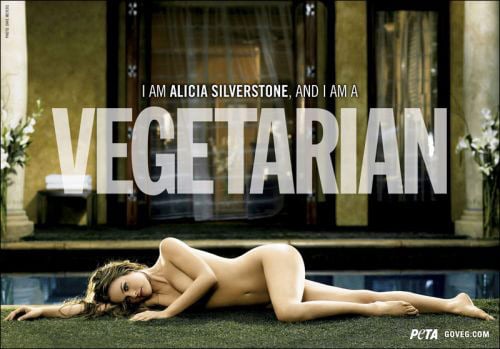 ®