This article is more than 1 year old
Pioneer BDR-203BK
The essential desktop upgrade?
Review Installing a Blu-ray Disc recorder is the latest must-have upgrade for desktops, but because they remain thin on the ground, they maintain a price premium. Given the high storage capacity of the Blu-ray format, write speed is particularly important and we're starting to see drives capable of 8x writing on 25GB and 50GB recordable media. Pioneer's BDR-203BK appears to be waiting for the media to catch up.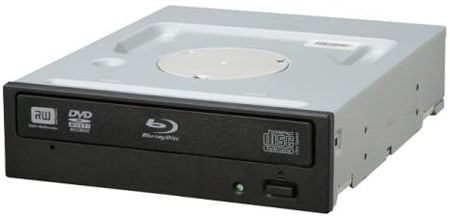 Pioneer's BDR-203BK: capable of 8x write speeds, if you can find the media
The BDR-203BK is the successor to Pioneer's BDR-202 and much of the earlier drive's look and feel is repeated here. This 5.25in internal drive has the same simple front panel, with powered tray, eject button, data LED and a hole for paper-clip-powered, emergency eject. There are also the same Sata data and power connections at the back, as before.
Set up is pretty simple, as long as you have an unused SATA controller. The drive has standard fixings and, given an HDMI-compliant graphics card and display, you can play Blu-ray media out-of-the-box with the supplied software. Well, that's the theory, but we had some problems – more on that later. It's also capable of handling recordable and rewritable DVD and CD discs, offering write speeds, which are competitive with typical mid-range DVD rewriters.
The bundled software is Cyberlink's Blu-ray Disc Suite 6 and this seems to be becoming more popular than the Nero equivalent with Blu-ray drive makers. There's a lot of functionality in Cyberlink's seven different modules, which comprise PowerDVD for movie and video playback, PowerDirector for video authoring, PowerProducer for slideshows, Power2Go from drag and drop burning, InstantBurn for hard drive-style use of optical discs and Disc Advisor, to check a PC's Blu-ray compatibility.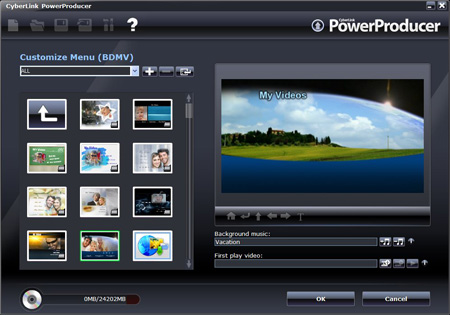 Slideshow anyone? Cyberlink's Disc Suite 6 is a mixed bag of authoring tools
Some of the apps are better equipped than others and, while Power2Go and InstantBurn between them can handle most of your archive storage needs, you'll want something a bit more involved than PowerDirector to make more than basic edits to HD video. Power2Go offers three 'buttons' on the desktop, over which you drag video, audio or data files to add them to a burn list.