This article is more than 1 year old
Lexmark T650DN mono workgroup laser printer
Low cost, good; low paper capacity, bad
Review The more people using a printer, the bigger it has to be, if only to hold extra paper. In fact, workgroup printers seem to have to be big simply to impress more people. Lexmark's T650DN starts large and is eminently expandable, so will only get larger.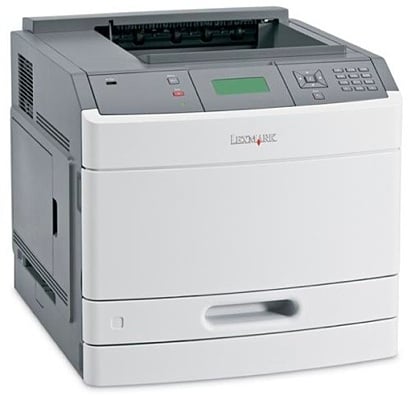 Lexmark's T650DN: a big printer, but quick and cheap to run
Lexmark may have a reputation for cheap but uninspired inkjet all-in-ones, but its laser printers are generally well regarded, a product of its heritage as IBM's printer division and something it has never really lost. The T650DN is designed as a duplex workgroup printer with a high throughput and considerable expandability.
Well, perhaps 'designed as a duplex printer' is overstating it. The 'DN' version of the printer is supplied with a separate duplexing unit which fits underneath the main machine. This has the advantage of being quicker than an internal duplexer, which feeds each sheet to the output tray and then rolls it back in for the second side, but on the downside it increases the footprint considerably and looks like the boot on a 1930s Armstrong Siddeley, though not as well integrated.
The T650DN is a substantial machine and, even though it's rated at a hefty 200,000 pages maximum duty cycle - 5000-20,000 average - we're not convinced it has to be this big. Rival machines in the same class, from companies like Kyocera Mita, are quite a bit less bulky.
This is particularly true as the main paper tray has a capacity of just 350 sheets. This is a ridiculously small amount of paper to put in a machine intended for use by a fair few folk at once and means somebody will have to restock it virtually every day.

The control panel includes a security keypad and USB socket
You can, of course, add extra paper trays, with capacities from 550 sheets up to 1000 sheets, but these are optional extras. Cynics might think the small size of the main tray, even given the additional, pull-down, 100-sheet multi-purpose tray, is designed primarily to encourage sales of options. Other extras include stackers, envelope feeders and staplers, so you can expand the machine to a considerable extent as your printing requirements grow.