Apple will extend parental controls to applications in its upcoming iPhone 3.0 software and iTunes 8.2, thus helping to calm some of the ongoing brouhaha over its erratic App Store censorship policies.
According to a report by 9to5 Mac, the next versions of the iPhone OS and iTunes will allow parents to set age-appropriate limits on app downloads for their iPhone-toting ankle-biters.
Apps, according to the report, will be rated at four levels: 4+, 9+, 12+, and 17+. Why on god's green earth a three-year-old would have an iPhone? We'll leave that aside for the moment. Adding ratings to apps will help Apple prevent such embarrassments as its recent censorship of an Nine Inch Nails app update.
That is, of course, if Apple's morality police deem the f-bomb suitable for even the 17+ crowd.
Currently, the iPhone has rudimentary parental controls that allow simple blocking of services, but not age-based restrictions. In the current system, a user - or a user's parent - can create a four-digit passcode to enable restrictions in Settings > General > Restrictions, then choose to allow or disallow "Explicit" iTunes downloads, Safari, YouTube, the iTunes app, installation of apps from the App Store, and the camera.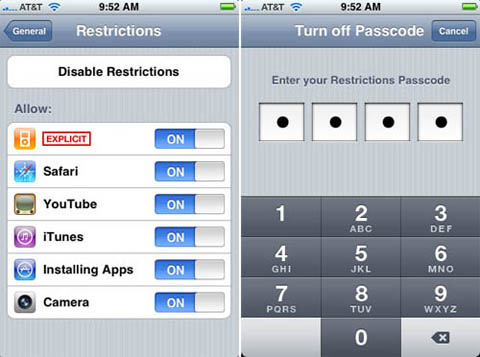 To enable restrictions on an iPhone's use (left), you first need to set a four-digit passcode (right)
Come to think of it, that last restriction could have prevented those sexting Pennsylvania teens from landing in a heap of trouble.
Current restrictions in iTunes are richer than those on the iPhone, with more fine-grained choices such as by movie and TV ratings and age appropriateness of games. If 9to5 Mac's report is correct, the games restrictions will be expanded to all apps.
Which brings up a logistical question: During the company's most recent financial-results webcast, Apple's acting commandant Tim Cook announced that there are now over 35,000 applications in the App Store. Will Apple's censors now go back and rate each and every one as to its age-appropriateness? And will they issue clear and cogent guidelines describing how such appropriateness will be judged?
We welcome Apple's fine-tuning of its App Store censorship policies. But we don't expect that arguments over what is and what isn't objectionable will end with the addition of age-appropriateness ratings. ®
Similar topics