This article is more than 1 year old
iTunes: prices up, revenue down?
Talking Heads and Long Tails
When iTunes introduced variable pricing a month ago, we discovered most of the catalog remained unchanged, with price increases for the most popular songs. Fair enough, you might think, that reflects real-world supply and demand. But has it, as expected, brought home more cash for the beleaguered labels?
Billboard and Digital Music News both carry reports suggesting otherwise.
Admittedly it's early days, and song sales are both notoriously seasonal and influenced by external factors. Billboard notes that after four weeks, both $1.29 and $0.99 songs have, as expected, experienced a decline in revenue, down 34.5 per cent and 29 per cent. But since $1.29 songs have a higher margin, the hike has raised more income than if the price had remained at 99 cents. How much? Billboard reckons $14,000 a week net. DMN confirms the trend but wonders if the net effect isn't negative overall.
There's no mention in either report of the Ella Fitzgerald effect: would price reductions on back catalog begin to shift these golden oldies? But sadly, in cold economic terms, maybe that doesn't matter very much.
Squeezing the head
And just as those half dozen expensive business seats on a flight pay for pretty much everybody else, the hits carry the rest of the catalog. This was challenged by Chris Anderson's faith-based "Long Tail" theory, which proposed that the future of digital retail was selling "less of more": higher aggregate volumes of low-selling inventory items that physical stores couldn't afford to carry.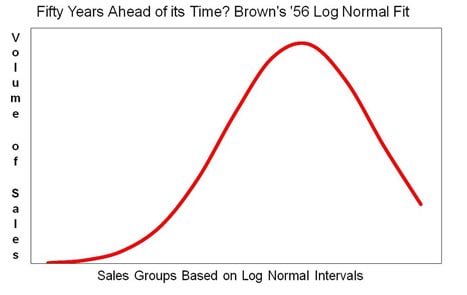 Brown's 1956 lognormal curve fits digital sales data much better than "The Long Tail"
But Anderson picked the wrong curve: you'll recall the study last year which found that of 12m songs carried by a digital music retailer - which may or may not be iTunes itself - 9m were never downloaded even once. With his "Long Tail" well and truly bust, suppliers are now refocussed on the traditional activity of squeezing profit from the bestsellers.
As for the "tail" - petrol stations have always carried racks of budget tapes and CDs of the classics, with a unit price far lower than that commanded by the Top 10 artists of the day. The evidence suggests that bundling and promoting the back catalog isn't something the labels have quite got the hang of yet, digitally.
But perhaps we should thank Susan Boyle (an example of an overnight internet sensation) for finally putting Web 2.0's fantasy economics to rest. ®